Daniela Vargas, 22-year-old Dreamer, told her story to the press — and was promptly detained by ICE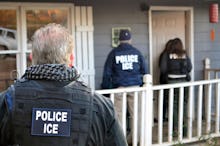 Federal immigration authorities didn't waste any time detaining Daniela Vargas, a 22-year-old undocumented resident of Jackson, Mississippi, just moments after Vargas spoke out about the detentions of her father and brother last week in a raid on their home by Immigration and Customs Enforcement officers.
Those detentions happened on Feb. 15, and Vargas has spent the past two weeks trying to bring attention to her family's story. On Wednesday, she spoke at a press conference in Jackson organized by local advocates, where she described the contributions that immigrants have made to the United States. Afterward, she was pulled over and arrested, according to the Huffington Post.  
Vargas' attorney, Abby Peterson, called the arrest an act of retribution. "It could be retaliation," Peterson told the Post. "They had been reading about her in the news, they had seen her at this press conference... [maybe] they didn't want to hear it anymore. Maybe I'm mistaken on that, but common sense would certainly imply that's what happened."
Vargas, who friends call "Dany," is scheduled to be deported without a court hearing, according to Vargas' attorney, Abby Peterson, who spoke to the Huffington Post. Vargas entered the country through the visa waiver program, which mandates that participants have no right to a hearing unless they are seeking asylum.
Rep. Bennie Thompson (D-Miss.), ranking member of the House Committee on Homeland Security, said in a statement, "ICE's assertion that her detention is 'routine' is absurd and seems anything but," according to the Post. "Those like Ms. Vargas just want a better life for themselves and their families."
Vargas emigrated to the United States with her family from Argentina more than 15 years ago, and was previously protected from deportation by Deferred Action for Childhood Arrivals, an Obama administration program offered temporary relief from deportation for younger immigrants brought to the United States by their parents. The Trump administration has promised to deport millions of immigrants, even those with minor or no criminal histories, and many fear that the program is in jeopardy. 
ICE released the following statement after Vargas' arrest, according to the Jackson Free Press:
U.S. Immigration and Customs Enforcement (ICE) took Daniela Vargas, 22, an unlawfully present Argentinian citizen, into custody March 1, during a targeted immigration enforcement action in Jackson, Mississippi.Every day, as part of routine targeted enforcement operations, U.S. Immigration and Customs Enforcement (ICE) Fugitive Operations teams arrest criminal aliens and other individuals who are in violation of our nation's immigration laws. ICE conducts targeted immigration enforcement in compliance with federal law and agency policy. ICE does not conduct sweeps or raids that target aliens indiscriminately.
March 3, 2017, 9:10 a.m.: This post has been updated.