How to pass time in 'Zelda: Breath of the Wild': Guide to make a campfire or find a bed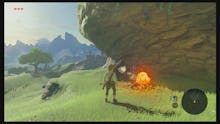 The Legend of Zelda: Breath of the Wild will allow you to pass time if you need to skip ahead from inclement weather to certain event times. While you could change weather, switch from day to night and make other changes simply by using the Ocarina in prior games, it's a little more difficult this time around. 
Here's how you can pass time in Zelda: Breath of the Wild based on our time with the game and confirmed by Shacknews.
Zelda: Breath of the Wild: Building a campfire or using a bed to pass time 
If you need to pass time in Zelda: Breath of the Wild, you must first find a campfire or use a bed. We'll talk campfires first. You don't need to look very far for one, as there are several locations throughout the world, especially when it comes to the outskirts of towns. If finding a campfire isn't a viable option at the time, you can always create your own and go from there. 
If you've looked around and haven't found a campfire, you'll want to grab some wood first. This can be done by finding trees to chop down. When you cut a tree down you'll be met with a tree trunk that you can chop up into a pile of wood. Once you've done that you can use flint found around the world to light the fire; just put some flint beside your pile of wood and hit it with a metal sword. You can alternatively shoot fire arrows at it. Either way, you'll be able to put together a campfire without having to look around for one. 
Alternatively, if you're in town and can find — and afford — a bed, you can do that to pass time. You can choose which time of the day you want Link to wake up in addition to getting a refill on hearts to make sure you're fighting fit and ready for battle. Campfires are quick and easy for while you're out in the world, but if you've got the extra cash and are near a town, a bed is a great way to go as well. 
More Nintendo Switch coverage
Looking for more Nintendo Switch news? Check out our comparison photos sizing up the Switch to the Wii U GamePad (part one and part two).
If you're just getting caught up, here's everything you need to know about the console's price, release date, preorders, battery life and our hands-on review. And if you're interested in the Nintendo Switch's games, here's info on the new Super Mario Odyssey, Legend of Zelda: Breath of the Wild, Splatoon 2, Xenoblade Chronicles 2, 1-2-Switch and the goofy boxing game Arms.