'Zelda: Breath of the Wild' Cooking Guide: How to cook food and use a cooking pot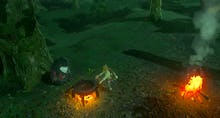 Zelda: Breath of the Wild is rife with several different ingredients for Link to use to create new materials, weapons, potions and elixirs. While the mechanic itself isn't new, it's been improved upon tenfold. Cooking in Breath of the Wild is a cinch, and while the game doesn't spell it out for you entirely, we're here to make sure you know how to put together delicious (or not so delicious) meals. 
Zelda: Breath of the Wild cooking guide: How to use a cooking pot
In order to cook in Breath of the Wild, you'll want to find a cooking pot, which looks like a big cauldron of sorts. You'll also need a fire beneath it. If you're near a fire, carry the bowl to a fire so you can get it good and ready for cooking. Then it's time to add your ingredients. 
Press the + button on your Joy-Con controller and look at your inventory to gather ingredients. You can pick them all up to throw them in the bowl. When you've chosen your ingredients you'll want to walk up to the black bowl and press the A button to start cooking. It's that simple. 
The game may also give you some audio feedback to rate your cooking skills. According to The Guardian, you'll hear a few musical notes if you cook a particularly effective dish.
Zelda: Breath of the Wild cooking guide: Cooking food 
For the most part, you'll probably be cooking different types of food. Cooking food will ensure the ingredients you utilize have added benefits. For instance, cooking things like apples will add to their restorative power. This holds true for a good portion of the ingredients you'll happen upon throughout Breath of the Wild. 
Simply put, if you can cook something, do so to improve upon what you already have at your disposal. If you have multiple items to cook together, you can do so as well. Adding herbs to meat can offer additional stamina-restoring and health-restoring effects. It's all about experimentation, which you'll want to do plenty of when you first start cooking. If food items sound like they could logically work well together, go ahead and put them in the cooking pot to create a meal. 
Make sure you don't mix food and monster parts, and always check the descriptions on the ingredients you're using to ensure you don't end up with wasted food or supplies. 
Zelda: Breath of the Wild cooking guide: Creating elixirs
In addition to food, you can create elixirs. You need both critters and monster parts to put them together, and not food ingredients. Monsters are essentially any enemy you fight out in the world, and critters are smaller animals like frogs, lizards, rabbits and others found out in the Hyrule plains. You'll need to use both parts to cook up elixirs, which will offer various status effects. These are cooked in the very same way you put cooked food together, only you need different types of ingredients.
Those are the basics when it comes to cooking. Good luck, and don't put together anything too gross for Link to eat or drink.
Check out more Nintendo Switch news and coverage
Check out our comparison photos sizing up the Switch to the Wii U GamePad, along with details on the console's price, release date, pre-orders, battery life and our hands-on review. If you're interested in the Nintendo Switch's games, here's info on the new Super Mario Odyssey, Legend of Zelda: Breath of the Wild, Splatoon 2, Xenoblade Chronicles 2, 1-2-Switch and the goofy boxing game Arms.