Deportation Force: Is the Trump administration creating a law enforcement army to deport immigrants?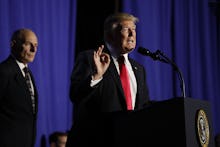 In 2015, Donald Trump promised a "massive deportation force" to round up and deport 11 million undocumented immigrants.
Now that he's president, is Trump keeping his promise?
That depends on how you define "massive" — but, in general, signs point to yes.
As of fiscal year 2016, there were 19,828 Border Patrol agents, according to the U.S. Customs and Border Patrol website, and "approximately" 12,000 Immigration and Customs Enforcement agents, according to an email from an ICE official said in an email.
In January, Trump signed an executive order calling on the Department of Homeland Security to hire 5,000 new Border Patrol agents and 10,000 new ICE agents.
More Border Patrol and ICE agents
In terms of math, that's about a 25% increase in the number of Border Patrol agents and a greater than 80% increase in the number of ICE agents. Nothing to shake a stick at, in other words.
But that's what Trump wants to do; it's not necessarily what he'll be able to do. There are a number of hurdles he'll have to jump over first — perhaps even one Trump placed in his own path when he announced a hiring freeze for federal employees back in January. While some agencies have issued lists of exempt positions, it's unclear whether DHS has such a list.
Cash crunch
Another obstacle is money. Nearly doubling the size of ICE won't be cheap, and Trump hasn't said where he plans to find the money to pay all those new employees. As Ted Hesson noted for Politico:
If Trump adds 10,000 additional ICE agents, it could mean a further $3.9 billion each year. DHS requested $3.1 billion in fiscal year 2017 for enforcement and removal costs, which include compensation for roughly 8,000 agents.The addition of 5,000 Border Patrol agents would tack $900 million annually onto the bill, based on the $3.8 billion DHS requested for 21,070 agents in fiscal-year 2017.
That doesn't even take into account Trump's border wall, the cost of which may exceed $20 billion.
And there's the matter of being able to find the right people, too. The Associated Press reported that two-thirds of Border Patrol applicants fail the required polygraph test, making recruiting new agents tough.
If Trump can convince Congress to foot the bill for his wall plus all the new people he wants to hire, he might be able to build his promised deportation force. Otherwise, it'll be just one empty promise.