Nintendo Switch Friend Codes: How to create a Nintendo Account and find your friend code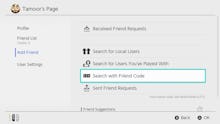 The Nintendo Switch is upon us, and it still utilizes friend codes for users to build their cache of online acquaintances. This guide will assist you in finding your Nintendo Switch friend code, creating your Nintendo Account on the Nintendo Switch console, and how to add others' friend codes for online play on the Switch in the future. With these tips you'll be able to keep up with all the friends who want to add you via the Switch in no time. 
Nintendo Switch friend codes: How to create a Nintendo Account
You'll need to have a previously created Nintendo Account or create one in order to get your own friend code, which is required for you to be able to give out for others to add. When you first start using your Nintendo Switch the system will allow you to create a profile. 
This profile is not your Nintendo Account, but you can create one and give it a name and avatar which can be changed at any time. After creating your profile for the first time, you can then link it to your Nintendo Account. You will need to be connected to the internet to do this.
You'll be able to link your Nintendo Account by signing in with your existing Nintendo Account or by creating a new one on the same screen. You will need to input your email address to link accounts or create an account before this step. Then you can move on to what you're really interested in: friend codes!
Nintendo Switch friend codes: How to find your friend code
Once you've got a Nintendo Account under your belt and you've linked it to your profile on your Nintendo Switch, you'll be able to get your friend code. Head to the Nintendo Switch's home screen and go to the top of the page. Choose the profile that you want the friend code of and check the profile page at the bottom right. You'll see your friend code there, which looks similar to this string of letters: AA-9999-9999-9999. This is an important code to remember, so make sure you remember where it is in case you need to come back. (Or just come follow our guide again.)
Nintendo Switch friend codes: How to add friends
Now that you've got your Nintendo Account and can add friend codes, you probably want to add your own friends to your list. Go to your profile page on the Nintendo Switch and select the Add Friend icon. Friend requests others have sent you and the option to find friends to add will be here as well. You can add recent players you met online, add local console users, or search for friend codes others have given you. This is currently the process for adding friends on the Nintendo Switch. 
Check out more Nintendo Switch news and coverage
Check out our comparison photos sizing up the Switch to the Wii U GamePad, along with details on the console's price, release date, pre-orders, battery life and our hands-on review. If you're interested in the Nintendo Switch's games, here's info on the new Super Mario Odyssey, Legend of Zelda: Breath of the Wild, Splatoon 2, Xenoblade Chronicles 2, 1-2-Switch and the goofy boxing game Arms.