Yes, Kalief Browder's story should make us love. But it should also make us angry.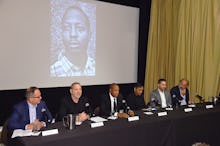 Kalief Browder should not be dead.
A young black man from the Bronx, Browder's story gained national attention in 2014 after he was profiled by the New Yorker's Jennifer Gonnerman and became a symbol of the criminal justice  system's gravest dysfunctions. 
He'd been accused at age 16 of stealing a backpack, then spent the next three years incarcerated on Rikers Island without being convicted or even facing a trial — much of that time in solitary confinement. Prosecutors eventually dropped the charges against him, but the time inside took a toll on Browder. In 2015, he died by suicide at his mother's home after suffering through bouts of depression and paranoia. He was 22.
Now, there's a new a new six-part documentary series on his life called Time: The Kalief Browder Story. Produced in part by Jay Z, the series debuted on Spike TV on Wednesday. In the premiere, Jay Z spoke about how and why Browder's story touched him. 
"I believe our prophets come in many shapes or forms," Jay Z said. "Sometimes our prophets come in the form of young undeveloped energy that will teach all us grownups how to love better and have more compassion."
He's right. As Jamiles Lartey wrote for the Guardian, the documentary unpacks how multiple broken government systems — child welfare, the NYPD's stop-and-frisk policy — shaped Browder's life and, ultimately, his death. 
"I'm glad that Kalief is this voice of reform and change," Kalief Browder's brother, Deion Browder, told the Guardian. "I hope it can be that beacon of hope for people who feel like they have no way out. I just wish he were here to see it."
Browder's story sparked a national discussion on the Bronx's shameful backlog of criminal cases, the hazards of so-called "broken windows" policing and the irreparable damage solitary confinement has on incarcerated teens. 
But as Browder's story unfurls over the coming weeks, it's important to remember: Love, by itself, cannot enact change. Anger, and the action that springs from it, can.