'Zelda: Breath of the Wild' Master Sword: Location, tips and tricks for finding the weapon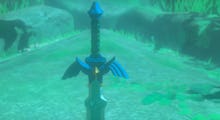 Link's Master Sword is an integral part of all things Zelda. The Legend of Zelda: Breath of the Wild upholds this tradition by having its own Master Sword quest, but it's a little different from what you might remember from previous titles like Ocarina of Time. This guide will assist you in finding and wielding the Master Sword to make your Zelda adventure just as magnificent as all the others were. 
The Legend of Zelda: Breath of the Wild: Master Sword location
To find the Master Sword, you need to find the Deku Tree after navigating the Lost Woods, which are to the north of Hyrule Castle on the map. The Lost Woods can be challenging, but once you've reached the Deku Tree, you'll see the Master Sword right in front of it, embedded in the ground like the great Sword in the Stone. 
There was a spell cast on the sword to ensure it would be protected until its rightful owner returned to set it free, and that's Link, of course. But finding the Master Sword is only a small part of being able to wield it or pull it free. 
Zelda: Breath of the Wild: How to get the Master Sword
You can try to pull the Master Sword as soon as you get to the Deku Tree, but you will not be able to do so unless you've accumulated 13 hearts. Anything less and your health will just be drained until it's game over. 
What you want to do is obtain additional hearts until you get to 13. You can't utilize any buffs from eating cooked meals or elixirs to spoof the 13 hearts, so this will require a fair amount of work if you want to make progress. Finding additional hearts will require that you complete as many Shrine trials as possible. 
When you finish up a Shrine, you will be rewarded with a Spirit Orb. If you collect four Spirit Orbs, you can obtain an additional heart container, which will be added to your heart count. Make sure you're up to at least 13 before you head back to the Master Sword to try and pull it out again. 
When you get the right amount of hearts and try to pull out the sword, it will drain your hearts until you've pulled it out in its entirety. Once you have it, you'll be able to utilize it on the final form of Calamity Ganon. It's unbreakable, and you can throw it and charge it up for use. Take good care of it, and only use it when other weapons just can't hack it. Congratulations! You found the Master Sword! 
Check out more Nintendo Switch news and coverage
Check out our comparison photos sizing up the Switch to the Wii U GamePad, along with details on the console's price, release date, pre-orders, battery life and our hands-on review. If you're interested in the Nintendo Switch's games, here's info on the new Super Mario Odyssey, Legend of Zelda: Breath of the Wild, Splatoon 2, Xenoblade Chronicles 2, 1-2-Switch and the goofy boxing game Arms.