Who is Juan Thompson, the former 'Intercept' reporter accused of JCC bomb threats?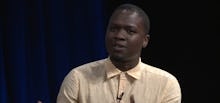 Juan Thompson is on his way to becoming one of the most infamous journalists in America. 
Thompson, a former reporter at the Intercept, was named in a criminal complaint released Friday accusing him of making several bomb threats to Jewish community centers and cyberstalking an ex-girlfriend. 
If these allegations are true, they would constitute the latest episode in a pattern of erratic behavior from Thompson — a pattern that surfaced publicly on Feb. 2, 2016, when Intercept editor-in-chief Betsy Reed published a note to readers informing them that Thompson had been fired for "a pattern of deception." After an internal investigation, the Intercept found Thompson had fabricated several quotes and sources. 
The publication retracted a story Thompson had written about Dylann Roof's alleged cousin, "Scott Roof," who apparently said the white supremacist's hatred of black people began when a girl he liked started dating a black man. "After speaking with two members of Dylann Roof's family," the retraction note read, "the Intercept can no longer stand by the premise of this story. Both individuals said that they do not know of a cousin named Scott Roof."
Reed's note said Thompson "fabricated several quotes in his stories and created fake email accounts that he used to impersonate people, one of which was a Gmail account in my name."
On Friday, after news of Thompson's arrest surfaced, Reed released a statement calling his alleged bomb threats "heinous."
It turned out the Intercept wasn't the first publication where Thompson fabricated his work. In his biography, which has since been removed from the website, Thompson claimed to have worked for Chicago radio station WBEZ. But Gawker reported that was also a lie. "Juan was never a reporter at WBEZ," Ben Calhoun, vice president of content and programming at WBEZ, wrote in an email to the now-defunct news site. "Juan was an intern for a local talk show for four months (May-August of 2014). The extent of his duties was minimal, and he certainly was never responsible for any piece of journalism — nor does he have any bylines with us."
When reached by Gawker after his termination, Thompson responded with a letter he'd written that claimed he was battling testicular cancer. He told Gawker he had sent the letter to Reed. 
"I hope you and your company can understand all this and give me time to recover so that I may eventually look over my notes," Thompson wrote. "I must say, though, it's a very nefarious and ill liberal and anti-humanist position to take if you do otherwise: kicking a cancer patient when he's down. I've been through a lot tougher situations than this and will weather anything thrown my way." 
Reed, however, got in touch with Gawker and said the version of the letter she received was missing a section that appeared in the Gawker version. Two other versions of what Thompson purported was a singular letter subsequently surfaced.
Targeting his ex-girlfriend
After his firing, Thompson's behavior became increasingly troubling. According to the criminal complaint, Thompson started using his Twitter account to publicly accuse a woman he claimed was an ex-girlfriend of anti-semitism and racism. 
The complaint also alleges Thompson began stalking the ex-girlfriend and emailing her employer from various accounts to accuse her of spreading sexually transmitted diseases. A message to the ex from someone claiming to be Thompson's family member said Thompson had been shot and was on life support. Thompson also threatened to release nude photos of the ex-girlfriend.
All of these claims were disputed by the FBI, who linked the anonymous emails to an IP address used by Thompson. The agent, identified as Christopher Mills, also searched hospital records and found no evidence of Thompson having been shot and hospitalized. 
A promising start
Before his career unraveled, Thompson appeared to be a promising young, black journalist finally making good on his lifelong goal of becoming a reporter. In the spring of 2015, he sat down for a panel produced by the Brooklyn nonprofit BRIC on the media and youth of color. 
"I'm from St. Louis, West St. Louis, a neighborhood very similar to Brownsville and Flatbush," Thompson said. "Everyone I know, the people that I grew up with, the people that I interview, whether they be in Ferguson, whether they be in Baltimore, the young people, like I did in my life when I was younger, they desire something more."
As of press time, several tweets have been deleted from Thompson's account, including ones sent to the Secret Service's Twitter account alleging the ex-girlfriend wanted to kill President Donald Trump.
March 3, 2017, 9:21 p.m.: This story has been updated.