How to use amiibo on the Nintendo Switch: Scanning system on the new console explained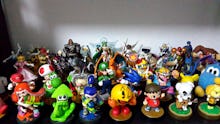 The Nintendo Switch is a new console, which means you may have to relearn some of methods and tricks you already knew on previous systems like the Wii U. That includes scanning amiibo — those plastic figurines sold by Nintendo that activate different bonuses inside various games. 
Don't worry, you can still use amiibos on the Switch, but it's a little different than it was on the Wii U. Here's what you need to know.
Nintendo Switch: How to scan amiibo figures in with your Switch 
You must be playing a game in order to utilize your amiibo figures. In your game, watch for a prompt to use an amiibo or simply scan a figure in while playing to activate the figure's powers. To do this, take your figure and tap it against the right Joy-Con controller — that's the red/orange one if you have the neon color scheme.
If you've done it right, you should see or hear some sort of response from the game. That could mean a reward appearing in the game or a notification confirming the amiibo worked.
You can use any amiibo figure with your Nintendo Switch, but the rewards will vary from game to game. For instance, The Legend of Zelda: Breath of the Wild will offer game-specific rewards such as Link's horse Epona or Wolf Link in-game. Experiment with different figures and see what you can get. 
For additional features, you can head over to System Settings on your Nintendo Switch and check the amiibo tab for amiibo registration and other information. Not every game supports amiibo figures currently. So keep this in mind when playing.
Check out more Nintendo Switch news and coverage
Check out our comparison photos sizing up the Switch to the Wii U GamePad, along with details on the console's price, release date, pre-orders, battery life and our hands-on review. If you're interested in the Nintendo Switch's games, here's info on the new Super Mario Odyssey, Legend of Zelda: Breath of the Wild, Splatoon 2, Xenoblade Chronicles 2, 1-2-Switch and the goofy boxing game Arms.