'Zelda: Breath of the Wild' Stone Talus guide: How to find and beat the Great Plateau boss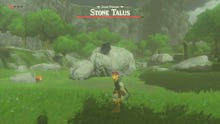 Here's how to find and defeat the Stone Talus boss in the Great Plateau, the beginning area of Zelda: Breath of the Wild.
There are several bosses and minibosses to find in the new Legend of Zelda title, and they're just waiting for Link to come and beat them senseless. That's where you come in. There's a special boss known as the Stone Talus right in the Great Plateau. This miniboss can be difficult to fight, but if you're ready to fight you can take him on with ease.
Zelda: Breath of the Wild Stone Talus guide: Finding the Stone Talus boss in the Great Plateau
The Stone Talus can be found within the northwestern corner of the Great Plateau. Check to the right of Hopper Pond for the general vicinity. When you find it, make sure you don't just run right in and start swinging. You'll see the Stone Talus when you happen upon it because it will be an enormous rock that suddenly forms in front of you, like a humongous boulder with two very big fists.
Zelda: Breath of the Wild Stone Talus guide: How to beat the Stone Talus boss
When you find the Stone Talus, you'll want to hop onto its back and start attacking the ore deposit, according to this xTGE walkthrough video. When the Stone Talus has risen, run to its back, climb up on it and start hacking away with a mining tool. You might want to use something similar to the Iron Sledgehammer, as USgamer suggests, and then fire off several charged attacks from Link over and over until Stone Talus topples. 
Alternatively, you can use arrows and a bow to aim at the ore on Stone Talus' back, which would be a simpler solution if you're not so keen on climbing on the back of monsters (or if you're better at long-range attacks). This would make the Stone Talus fall — so you could presumably run over to attack it at close range and then lather, rinse and repeat.
Once you've finally repeated those tactics enough, you'll take down Stone Talus and be rewarded with the spoils. You'll get a mixture of opals, rubies, amber and other rewards. This is a great haul for the amount of effort that you'll put into the fight. Just be careful and tactful, and you'll win in no time. 
Remember, this is a completely optional boss, so it is not required to complete if you want to progress in the story.
Check out more Nintendo Switch news and coverage
Check out our comparison photos sizing up the Switch to the Wii U GamePad, along with details on the console's price, battery life and our hands-on review. If you're interested in the Nintendo Switch's games, here's info on the new Super Mario Odyssey, Legend of Zelda: Breath of the Wild, Splatoon 2, Xenoblade Chronicles 2, 1-2-Switch and the goofy boxing game Arms.