Donald Trump's USCIS suspends all expedited H-1B visa processing for 6 months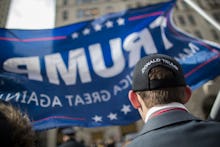 Effective April 3, U.S. Citizenship and Immigration Services will suspend "premium processing" of all H-1B visas for up to six months, in a move seemingly synchronized with President Donald Trump's efforts to restrict some foreigners' entry to the country.
According to Reuters, the shift means expedited H-1B non-immigrant visas — which could previously be rushed to "within 15 days" for a $1,225 fee — will be relegated to the normal pool of H-1B visas that can take months to review. H-1B nonimmigrant visas are limited to 65,000 annually, plus an extra 20,000 for those with advanced U.S. degrees. The visas mainly apply to "graduate-level workers in several specialized fields, including information technology, medicine, engineering and mathematics," Reuters wrote.
H-1B visa positions are extremely competitive, both because foreign workers are eager to work for U.S. tech firms and because of the high volume of applications received. According to SFGate, USCIS received 236,000 petitions for the 85,000 available slots in fiscal year 2017.
The positions are ultimately decided by lottery, and expedited processing does not affect one's odds of actually getting one of the visas.
Trump emerged as a prominent critic of immigrants during the 2016 campaign season, though his plans for the H-1B program remain unclear. The program has some prominent critics, including Illinois Sen. Dick Durbin, who claim it is being abused to replace U.S. workers with low-cost outsourced labor.
While USCIS officials referred to the suspension of premium processing as routine — and the agency has done so in the past to clear backlogs in visa applications — the length of the suspension is not normal, according to SFGate.
Piyumi Samaratunga, an immigration attorney with Constangy, Brooks, Smith & Prophete, told SFGate the delay would "significantly affect" employers and expressed confusion as to what could have motivated the six-month suspension, which would interfere with one of USCIS' key sources of revenue.
However, immigration attorney Jason Finkelman said the wait time for an H-1B visa in California is currently eight months, and that the delay "has everything to do with an understaffed, overworked U.S. Citizenship and Immigration Services."