Why isn't Iraq included in Trump's travel ban?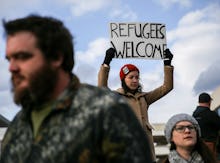 On Monday, President Donald Trump signed the second iteration of hi so-called travel ban, an executive order barring travelers from a handful of Muslim-majority countries. One of the biggest differences between Monday's order and the original is that Iraq is no longer on the list of banned countries.
Diplomatic concerns
According to the Associated Press, the White House agreed to remove Iraq from the list under pressure from the Defense and State departments, headed by retired Marine general James Mattis and former Exxon-Mobil CEO Rex Tillerson, respectively. CNN reported national security adviser H.R. McMaster and Secretary of Homeland Security John Kelly also supported the move for "diplomatic reasons."
While the White House hasn't given an official reason for Iraq's removal, the AP reported that Iraq's assistance fighting the Islamic State, or ISIS, is behind the change.
Chaos and confusion
The inclusion of Iraq in the original ban led to chaos and confusion. Iraqi interpreters who had helped U.S. troops in the fight against ISIS in exchange for American visas found themselves suddenly stranded in airports, unable to enter the country, contributing to a wave of anti-ban sentiment. The White House quickly said that Iraqi translators working with U.S. troops would be eligible for waivers under the ban, but protests at airports across the country continued nonetheless.
After several days of protests, the ban was halted by a federal judge.
Whether the White House's tweaks to the order will be enough to prevent further outrage or similar lawsuits remains to be seen.