Chance the Rapper to donate $1 million to support Chicago's ailing public school system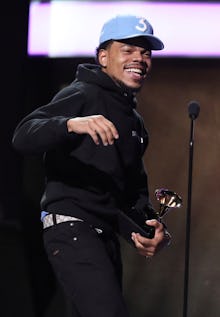 Following his tense meeting Friday with Illinois Gov. Bruce Rauner, Chance the Rapper announced Monday morning he would be holding another livestreamed press conference that afternoon at Westcott Elementary School to address the ongoing funding crisis for Chicago public schools.
Standing behind a podium surrounded by educational posters, Chance called out Rauner for his inaction on the Chicago school system's budget problems and announced his intention to donate $1 million to Chicago Public Schools to "support the arts and original programming." He pulled out a big game show-sized check to prove it.
"This check that I donated is a call to action," Chance the Rapper said. "I'm challenging major companies and corporations in Chicago and across the U.S. to donate and take action." 
The South Side artist directed his audience to his open donation platform on SocialWorksChi.org with a promise he'll match every $100,000 raised by donating $10,000 to a Chicago public high school or elementary school. He gave the first additional $10,000 to Westcott, pulling out another big check to wild applause from the small audience. 
Chance the Rapper is for the children.
Chance said the donation was made possible by fans — the money comes from ticket sales to his Coloring Book World Tour and partnerships with Live Nation, AEG and independent promoters and venues.
"This isn't about politics, this isn't about posturing," he said. "This is about Chicago and its kids. Everybody and their momma knows what's happening in Chicago."
Illinois ranks last when it comes to funding public education, Chance said, likely referring to a 2015 study initiated by the Illinois Association of School Administrators. He said current budget issues will force schools to close 13 days early this year, leaving children unsupervised and in danger. 
The deficit is the product of an ongoing battle between the Chicago public school system and the state of Illinois. Last year, Rauner vetoed a bill set to provide Chicago schools with a $215 million cash infusion, a decision Rauner has said was the product of his getting "a little emotional" after tense negotiations with state Democrats.
In February, the Chicago school system sued the state of Illinois, saying the state's funding plan violates its civil rights laws and "penalizes poor kids in poor school districts and rewards wealthy kids in wealthy school districts," Chicago Mayor Rahm Emanuel told reporters, according to Reuters.
Hours before Chance's announced press conference, Rauner issued a memo offering two solutions to find the $215 million needed to fund Chicago's public schools — both of which mayoral spokesman Adam Collins dismissed as being "no solution at all."
"As you guys know I'm not a politician," Chance said, noting he had seen the memo. "It's not my job to propose any policy or stand behind anything other than the kids.
"Fight with me, organize with me. This is the very beginning." 
Answering audience questions, Chance also addressed his recent Grammy wins in explaining why he feels the need to give back to his city in its time of need.
"This is what's right," Chance said. "I want to say that I don't care about the Grammys, but the Grammys were what I needed to have my first meeting with Governor Rauner" — as "frustrated" as Chance was afterward.
He left with a parting word to the governor, a repeat of his sentiment Friday: "Governor Rauner, do your job."
Watch the full press conference via Chance the Rapper's Periscope below:
Mic has ongoing music coverage. Follow our main music hub here.