Black Lives Matter advocate Tishaura Jones is running for mayor of St. Louis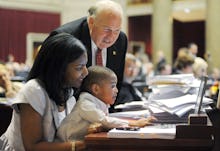 For the second time in as many years, an aspiring black politician is drawing on lessons highlighted by the Black Lives Matter movement to try to become mayor of their big city hometown.
Tishaura Jones, a 44-year-old St. Louis native, is squaring off with six other democratic candidates in that city's primary election on Tuesday. And she's doing so on a platform that promises to root out the racial inequity that boiled to the surface in the aftermath of the death of Mike Brown, an 18-year-old who was shot and killed by a white police officer in nearby Ferguson in 2014.
"I feel that it's elected officials' responsibility that we use the tools of government to even the playing field," Jones said in an interview with Mic. "We [have to] promote policies that make everyone rise, not just those in wealthy zip codes."
Jones' bid for mayor is not unlike that of DeRay Mckesson, the prominent activist associated with Black Lives Matter who was defeated in his bid last year to become mayor of Baltimore. Jones is yet another example of America's young black politicians using the prominence of Black Lives Matter — a movement known for public protest — to chart a new political future through elected office.
Throughout her campaign, Jones has pointed to deeply entrenched local and federal policies in housing, schooling and employment that have made St. Louis the sixth most segregated city in the country. But for her, confronting those racial inequities is the only way to fix them.  
"Our community spent a year looking at all of the root causes that led to that moment," Jones said, highlighting a state-sponsored report on racial equity that was compiled after the Ferguson uprisings of 2014, following Brown's death. "That detailed some very clear calls to action that everyone needed to take a look at, and as I looked at running for mayor, I wanted to make sure that I folded those calls to action into my platform."
Those calls to action included 16 measurable next steps regarding racial equity, including that public institutions disaggregate data to offer a clear look at regional disparities and that trauma-informed and anti-biased trainings for local media be provided.
In 2012, Jones was elected as the city's treasurer and then re-elected in 2016. She came up with an innovative plan to use money from parking fees to start college savings accounts for kindergarteners, and has advocated for free, accessible financial literacy courses for children and adults.
But it's Jones' interactions with local media that have gotten her the most attention during her campaign. On Feb. 6, she declined to meet with the editorial board of the St. Louis Post-Dispatch, and instead wrote an open letter to the paper's board, criticizing it for its coverage of black communities. That letter was published in the St. Louis American, one of the country's oldest black newspapers. 
"What the editorial board and certain other reporters have done is nothing short of thinly veiled racism and preference for the status quo past," Jones said. "Something this city has had enough of."
The letter went viral. 
But while Jones is unapologetic about the importance of racial equity in her platform, she's also careful to point out that the description of her as a "Black Lives Matter" candidate is only part of her identity. "It's a part of who I am, but not all of who I am," she laughed. 
"I always tell people that I'm a mother first and foremost," she says of her 8-year-old son Aiden. "I worry about how my son will grow up in St. Louis and I want to do what I can to make St. Louis a place where he wants to come back to after he graduates from college — that he feels this is a place where he can raise his family and where his children will be treated fairly."