For artists of color, Donald Trump isn't America's biggest bully, it's erasure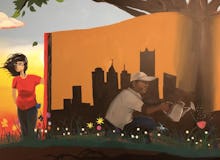 When Donald Trump offered his first budget proposal as president, threatening to gut an already meager federal arts budget, artists were up in arms. Dozens, — including Shonda Rhimes, Macklemore and Shephard Fairey — signed an open letter sponsored by MoveOn.org opposing the president's agenda. More than 130 signed a petition to close cultural institutions on Trump's inauguration day.
"It is not a strike against art, theater or any other cultural form," the group, calling itself the J20 Art Strike for Trump's January 20 inauguration day, wrote in a statement. "It is an invitation to motivate these activities anew, to reimagine these spaces as places where resistant forms of thinking, seeing, feeling and acting can be produced."
The idea that arts spaces can and should be hubs of political resistance is not new. In the United States, it has often been artists of color who have been at the political-artistic vanguard. Think DJ Kool Herc, who threw hip-hop's first parties in the Bronx in the early 1970's to offer neighborhood kids an escape from festering gang violence. 
By 2042, demographers estimate that people of color will represent a majority of the U.S. population. This has fueled white anxiety and made the ida of a white genocide a storyline in the 2016 presidential election. Art that challenges that white supremacy, even if it's popular is, still controversial. 
That's the driving motivation behind groups of artists of color who have been convening in cities across the country as part of ArtChangeUs, a five-year series of curated conferences and performances that examine what effect the country's dramatic demographic change will have on its arts and culture. Can numbers, on their own, equal power? And if not, how will fighting against power look, feel and sound?
Housed at the California Institute for the Arts and led by longtime theater director and former Ford Foundation program officer Roberta Uno, the program met for the first time in the Trump era last week in Oahu, Hawaii. The group has held previous meetings in New York City and San Francisco. 
While still a small outfit -- it lists only 10 staff members on its website, including fellows -- it has been able to extend its reach thanks to nearly two dozen core partners, including New York City's Kennedy Center; the National Association of Latino Arts and Culture in San Antonio, Texas; and Alternate Roots, a 40-year-old arts service organization based in Atlanta, Georgia. Together, the project's members talk about sustainable and responsible ways to create art in and for communities in that have either been excluded or exploited by it.
"We figured if we could aggregate our infrastructures and our creative capital, we could accomplish some things that are larger than ourselves," Uno said on stage in October, welcoming dozens of invited artists to the gathering.
Last October, roughly a month before Trump was elected president, dozens gathered on a crisp, sunny day in Detroit to share how and why they create their art at the Charles Wright Museum of African-American history. The upcoming presidential election was a backdrop, not a focus, but there was still palpable political energy in the air; these were artists whose work is often described as "political" based on the false assumption that there's art in this world that doesn't express a point of view.
Detroiters have become deeply skeptical of outsiders who flock to the city to try to "save" it -- assuming that the largely black and working class community there hasn't already been honing decade of ideas about innovation. That's why ArtChangeUs teamed up with group of the city's cultural activists to draft guidelines called Cultural Community Benefits Principles for private developers and businesses that come into the city and receive public funds. The agreement encourages these private enterprises to draw on local resources for everything from presenters and vendors, all the while trusting that those local resources -- in this case, black Detroiters -- have rich and meaningful contributions to make.
Together, they've created a blueprint that the rest of the art world would be wise to follow, which is to root their resistance in communities that have long been working toward political change. Uno, pointing to a New York Times analysis that only 44 of the 503 most powerful people in the country are people of color, described the program's mission during a meeting last October in Detroit, saying that "we are lifting up this demographic moment to really center the arts at the nexus of social justice."
There's Leila Abdelrazaq, a 22-year-old Palestinian graphic artist, who led a workshop on how to create visuals to discuss complex issues like displacement, police violence, and racism. Rebecca Mwase and Ron Ragin, two black artists based in New Orleans, led a session called "The Freedom Chamber," which walked participants through singing a series of songs based on the Middle Passage, the journey that enslave Africans made from Africa to the New World.
But it's the place that mattered most. The convention's theme -- "majority-majority" -- was a fitting motto for a city like Detroit, in which black people have long been the majority population. That, according to artists there, has informed all of the city's exports, including the music Motown's music and Ford's trucks. 
"There is an intuitive knowing that we impact the majority population of America, and the planet, with our cultural, industrial and economic innovations," said Bryce Detroit, an artist and Motor City native.
From there, one of the conference's most powerful moments was also one of its most prescient. Complex Movements is a group of Detroit-based artists, musicians and community organizers who recently purchased a building to house its mobile art installation, "Beware of the Dandelions." The show, held inside of a 400-foot pod and featuring live emcees, animation, and music, is an interactive story about a young person learning to navigate a post-apocalyptic society. Two months into a chaotic and frightening Trump presidency, the show could also be a how-to guide for any immigrant, transgender, or Muslim young person who's trying to navigate a more hostile American landscape with an even bigger target on their back.
The overriding message of the gathering was that place, and history, matter. In the case of "Beware of the Dandelions," that history included the legacy of Grace Lee Boggs, a pioneering Asian-American activist who, alongside her husband James Boggs, organized black autoworkers. Boggs, who died in 2015 at the age of 100, committed her life to organizing and mentoring, often driving home the idea that artistic creativity was a key weapon in the fight for freedom. And it's Boggs who come to mind when one of the play's main characters, GG, offers advice on survival and resistance.
For these artists, surviving the Trump era requires tools that are already available, honed over the course of generations of struggle in communities of color. And numbers alone -- take this year's small but meaningful strides at the Oscars -- aren't the key to freedom. "The [demographic] shift alone isn't a victory, Uno said in Detroit. "This is where we really have to question what are the power paradigms, what are we changing?"