The 5 worst things AG Jeff Sessions allegedly said about and done to minorities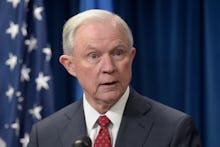 Attorney General Jeff Session's record on civil rights is — allegedly — not great. Accusations of bigotry have hounded Sessions since he was nominated by Ronald Reagan for a federal judgeship in the 1980s. 
At his confirmation hearing for said judgeship, a handful of former colleagues accused Sessions of racism. Ultimately, based on that testimony, the Senate did not confirm him. Here are some of the worst things Sessions reportedly said, straight from that hearing:
Allegedly called the NAACP "un-American"
First, Sessions allegedly called the NAACP and other civil rights groups "un-American," according to Thomas Figures, a black man who was an assistant U.S. attorney when Sessions was a U.S. attorney in Alabama. According to Figures, Sessions also said, "You know the NAACP hates white people; they are out to get them. That is why they bring these lawsuits, and they are a commie group and a pinko organization as well." 
J. Gerald Hebert, a Justice department attorney who had previously worked alongside Sessions in Alabama, also testified against him. According to Hebert, Sessions said groups like the NAACP "force civil rights down people's throats."
Asked about the alleged statement, Sessions remembered it differently, according to the Washington Post. "[The] NAACP and other civil rights organizations, when they leave the basic discriminatory questions and start getting into matter such as foreign policy and things of that nature and other political issues — and that is probably something I should not have said, but I really did not mean any harm by it," he said. "I certainly do not think of the National Council of Churches, and certainly not the NAACP, as being an un-American organization,' he added.
Racial language toward a colleague
Sessions allegedly called his assistant U.S. attorney, who was black, "boy." This accusation also comes from Sessions' 1986 confirmation hearing. Sessions again denied he'd called Figures "boy." According to the Post, Sessions said, "I was also flabbergasted to hear Mr. Figures say that he was regularly called 'boy' in my office. He said I called him this, twice. I state categorically that I have never called Mr. Figures 'boy.' … 'Boy' is a reprehensible term to use to describe a black man in the South. Because of the history of that term, I have never used the word 'boy' to describe a black, nor would I tolerate it in my office."
White lawyer a "disgrace" for minority representation
Sessions allegedly said a white lawyer was "maybe" a "disgrace to his race" for representing black clients. This allegation comes from Hebert, who said he'd heard a federal judge say a white lawyer representing black clients was "a disgrace to his race." 
Sessions, Hebert said, replied, "Well, maybe he is." Sessions didn't refute this allegation.
KKK "OK" and civil rights activists not
Sessions allegedly said he thought the Ku Klux Klan "was OK until I found out they smoked pot." Sessions also didn't refute this one. He's been a hardliner when it comes to marijuana legalization, arguing that "good people don't smoke marijuana."
It gets worse.
In 1985, when he was a U.S. attorney, Sessions prosecuted three civil rights activists, accusing them of voter fraud. According to Sessions, Albert Turner, a prominent civil rights activist; his wife, Evelyn Turner; and Spencer Hogue had tampered with ballots. The ballots in question just so happened to belong to black people the Turners and Hogue had been helping to vote. 
A judge and jury found they hadn't violated any laws, and eventually all the charges were thrown out. The case put a permanent stain on Sessions' record and haunts him to this day.