Meet 3 women who are striking against Trump in places where their voices often go unheard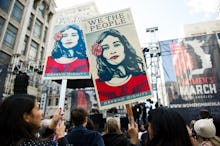 Women across the country are staying home from work and school on Wednesday to mark "A Day Without a Woman," a national strike — or day of inaction, so to speak — organized by the same groups that spearheaded January's women's marches in Washington, D.C., and other cities.
But the stakes — along with the rewards — can be especially high for women who live in cities that supported Donald Trump in the 2016 presidential election and vocalize their dissatisfaction with the president's agenda, which includes plans to defund Planned Parenthood and gut federal funding for reproductive health.
Not that they aren't already. April Weiss, 40, lives in conservative Titusville, Pennsylvania, roughly an hour's drive south of Erie. The mother of three teenage children has a full-time unionized job as a certified nursing assistant at an elder care home, where she's worked for 18 years. 
"I still don't make $15 an hour," she told Mic in a phone interview Tuesday, acknowledging that in her small, rural community, she sees plenty of people who are worse off. 
"My situation isn't the worst," Weiss said. "I'm grateful to have a roof over my head, food in my belly and a car to drive."
Even so, Weiss said she still can't afford the $700 in monthly premiums it would cost to provide health insurance for her kids. When one of her sons, Sean, broke his wrist in 2016, she was able to pay for visits to the doctor's office and an orthopedist because the family's insurance deductibles were lower. When Sean played basketball earlier in 2017, she held her breath all season, hoping he didn't injure himself again. 
"I'm hoping [the strike] will open some people's eyes," said Weiss, who plans on staying home to read a new book she bought specifically for the occasion, Sarah Pinborough's Behind Her Eyes. "Women have been fighting a long time for equality in pay and general treatment."
In Carbondale, Illinois, a relatively liberal college town in an otherwise conservative southern part of the state that's been a stronghold for Republicans, Liz Hunter, 36, planned to spend her day doing everything but being idle. She's part of a small group of women from Carbondale who traveled to Washington, D.C., for the Women's March in January and decided to bring the energy she absorbed there back to Illinois. Hunter helped lead a campaign in which 200 local volunteers sent more than 1,000 postcards to their senators with demands on women's rights. 
On Wednesday, she's helping to host a rally that'll gather advocates from communities most impacted by Trump's policies, including activists in the areas of domestic violence and gender-based violence, racial justice and LGBTQ rights. 
"A lot of people were closet progressives and they talked about it privately amongst themselves," Hunter said about the local political climate that's brewing. "We have this isolated activism, but we are seeing people come from other counties [to protests in Carbondale], even ones that were really red [last November]."
Progressives in red states have plenty of practice fighting against a conservative majority. But by most measures, that vocal progressive resistance is growing — and as evidenced by their participation in women's marches and International Women's Day, it's often women who are leading the charge.
For Paula Muñoz, a 24-year-old organizer with the Service Employees International Union in Miramar, Florida, Wednesday is also a day to show off the broad coalition of communities who have come together to redefine what's been traditionally known as "women's rights."
"Often times we hear about women's rights and women of color are left out," Muñoz said. "A lot of black women, Latina women, Asian women [and] gender-nonconforming people have been organizing, taking a stance and inserting themselves into this conversation we're having about women's rights."
Broward County, where Muñoz lives after emigrating from Colombia at the age of 7, went blue in the 2016 presidential election. However, Trump won the state in a crucial blow to Hillary Clinton. 
For Muñoz, though Florida is a red state, its diversity has actually provided a blueprint for reaching disparate communities. "The more southern you go, the more diverse it gets," she said about what sets the state apart from what's traditionally been true in the rest of the country. 
"When you have a meeting, you need translators who can speak Spanish, Portuguese, Creole," Muñoz said. "Organizing in this county pushed me to understand what real intentional inclusivity means."
Correction: March 9, 2017
What does A Day Without a Woman look like? Show us! Mic wants to see what your office looks like when women go on strike. Send your stories, photos and videos to ADayWithoutAWoman@mic.com and we may feature them in an article or on our social media channels.