Here's how a potential Trump trade war with China would affect the US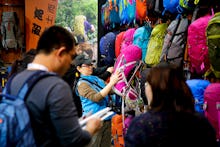 In the mind of Donald Trump, China is to blame — for job losses, for stagnant wages, even for climate change. To deal with this bogeyman, Trump has proposed a trade war between the world's largest economy, the U.S., and the world's second-largest, China. As with most wars, it probably won't end well.
Tariffs and taxes
This war won't be fought with bombs and bullets, but with tariffs and taxes. For starters, Trump has threatened a 45% tariff on all Chinese imports. The U.S. imports more goods from China than from any other country — $482 billion in 2015, according to the office of the U.S. Trade Representative. And that number has nearly doubled since 2005.
Electronics and machinery make up about half of what the U.S. imports from China. A tariff on Chinese imports would amount to a tax on those goods. Because China floods the U.S. market with cheap goods, those hardest hit by a tariff would be America's poorest.
Companies that import parts from China to manufacture products in the U.S. would also feel the pinch. And, because many of today's high-tech products are manufactured using inputs from all over the world, a great many products and companies could be affected. Apple, for example, manufactures its iPhones in China using parts from around the world.
Such a tariff would violate World Trade Organization rules, however, and the Chinese would almost certainly retaliate.
According to the Economist, China could stop importing U.S. aircraft and soybeans, a move that would likely upset farming states and put pressure on the Trump administration.
And, because many Chinese exporters are actually owned by companies not based in the Chinese mainland, declining exports to the U.S. might not actually hit the Chinese economy all that hard, Bloomberg reported.
Of the 26 biggest exporters from China to the U.S., 14 are owned by Taiwanese companies, while only five are owned by Chinese companies (and four by Americans), a representative for Tokyo-based bank Nomura Holdings told Bloomberg.
"Millions of jobs"
A full-blown trade war could also cost the U.S. "millions of jobs," according to Keyu Jin, a professor of economics at the London School of Economics. 
"Beyond being America's second-most important trading partner, China is America's main jobs supplier," Jin wrote for Project Syndicate. 
"If China switched from Boeing to Airbus, for example, the U.S. would lose some 179,000 jobs. Reduction in U.S. business services would cost another 85,000 jobs. Soybean-producing regions — for example, in Missouri and Mississippi — could lose some 10% of local jobs if China halted imports."