Here are the Republicans who oppose Trump's health care plan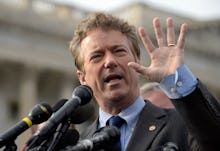 President Donald Trump's long-promised Affordable Care Act replacement may be dead on arrival, thanks to opposition from members of his own party.
On Monday, House Republicans released draft language for the American Health Care Act, the GOP's answer to the ACA commonly known as Obamacare. And, despite having vowed to repeal and replace the ACA since it became law in 2010, the GOP's rollout of its own health care plan didn't go smoothly.
"Obamacare Lite"
Libertarian-minded conservatives were the first to speak up. On Twitter, Sen. Rand Paul (R-Ky.) called the plan "Obamacare Lite" and vowed "it will not pass."
Paul's problem with the bill is that it doesn't strip away enough of the ACA. "It keeps ACA subsidies but renames them 'refundable credits,'" Paul tweeted. And, he said, it keeps the individual mandate — the part of the ACA that requires individuals to purchase health insurance or face a fine. 
The GOP's bill does away with the fine, but lets insurance companies charge 30% higher premiums if you have a gap in your insurance coverage — if, for example, you lose your job and don't immediately get new insurance. The provision is designed to entice people to buy health insurance, but libertarians like Paul see it as a stick, and they want carrots.
Paul wasn't the only Republican senator to say he won't back the bill in its current form.
Senators Rob Portman of Ohio, Shelley Moore Capito of West Virginia, Corey Gardner of Colorado and Lisa Murkowski of Alaska are concerned the bill could throw Medicaid enrollees to the wolves.
Under the ACA, 31 states expanded Medicaid eligibility to include individuals and families earning up to 138% of the federal poverty limit — about $16,640 for individuals, $22,410 for a family of two and $28,180 for a family of three.
The GOP has long sought to roll back the Medicaid expansion, and its new bill does that — beginning in 2020.
Senators Portman, Moore Capito, Gardner and Murkowski, who all represent states that opted to expand Medicaid, don't like that. In their letter to Senate Majority Leader Mitch McConnell, the four said they are "concerned that the Feb. 10 draft proposal from the House of Representatives does not provide stability and certainty for individuals and families in Medicaid expansion programs or the necessary flexibility for states."
"Not the Obamacare repeal bill we've been waiting for"
Sen. Mike Lee of Utah also voiced concerns. "This is not the Obamacare repeal bill we've been waiting for," he said in a statement Wednesday. "It is a missed opportunity and a step in the wrong direction."
"We promised the American people we would drain the swamp and end business as usual in Washington. This bill does not do that," he added.
And, on Tuesday, Sen. Roy Blunt of Missouri said the plan may not have enough votes to pass the senate. With 52 seats in the senate, Republicans can afford two defections at most, assuming all Senate Democrats vote against the plan.