'Iron Fist' costume designer teases Marvel Easter eggs and tying 'The Defenders' together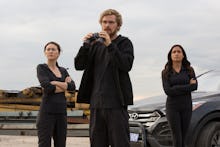 On Friday, Netflix will be releasing the entire first season of Iron Fist, the final piece of the puzzle that is Marvel's The Defenders. Previous Marvel series on Netflix include Daredevil, Jessica Jones and Luke Cage. The Punisher, who appeared in Daredevil's second season is also set to receive an eponymous series. 
The Marvel shows on Netflix have thus far received extremely strong reviews, and have largely remained faithful to the comics, while embracing grittier storylines than those seen in network counterparts. As such, Marvel and Netflix are no doubt hoping that Iron Fist keeps with that tradition and is yet another hit. 
One of the many things that makes a Marvel series so great is the look and feel of the show. As such, Mic recently spoke with Stephanie Maslansky, who is intimately involved with the series aesthetic. Maslansky has been the costume designer on all of Netflix's released Marvel series, in addition to the forthcoming Iron Fist. 
During our interview, Maslansky discussed working with Marvel, the challenges of adapting the costumes from the page to the screen and the differences between the many characters. 
(Editor's note: The following interview has been edited and condensed for clarity.)
Mic: Before we really get started, were/are you a fan of comic books?
Stephanie Maslansky: I have children, so whatever their whims were, I encouraged them. I encouraged them to read, so comic books were the first thing they wanted to read. If that happened to intersect with superheroes, I was all for it. When I was a kid, I was a fan of comic books, but not necessarily superheroes. 
There weren't as many superheroes back then. There was Superman and Batman and that's it. Those television series, though, were always entertaining when I was a kid, and I certainly watched them back then. I really was a big addict of the Sunday funnies, as we used to call them growing up. 
What drew you to the Marvel series? Is it seeing these superheroes in more of a modern setting?
SM: Actually, yes, that is exactly right. First of all, of course, the fact they were being shot in New York, and that New York was such an important component to the story, really intrigued me. As a New Yorker, as someone who loves to work in New York, and remain in New York whenever possible, I was really intrigued by the idea of taking these fantastical characters and grounding them in a real, authentic New York, gritty environment. And that is exactly what the premise and the philosophy is behind these stories: taking these superheroes and creating real characters out of them — real, complex, authentic and life-like as possible. The TV series are much different than Marvel films for that reason.
What would you say is the greatest challenge adapting, specifically the costumes from the page, into this real-world setting?
SM: For one thing, it is a very collaborative process, creating these characters. Marvel looks to respect the fans and respect the history. It is very important to pay homage to these characters as illustrated in the past, and part of what we do is try to throw in little Easter Eggs here and there where we really use something that feels very much part of the comic illustration and recreate it on the screen.
I think in a way that can be very challenging, because often times artists can draw work they like, and they are not thinking whether or not it is practical. They draw what they like, and it is wonderful art. We have to translate it to something that is practical — that an actor can wear and do stuff, and fight, and live and breathe and exist in. That can be quite a challenge. 
If I am being honest, Daredevil is my favorite of the Marvel Netflix series. It seems to be the definitive live action adaptation of that character. In the first season, most of his activities as a vigilante were not in costume — until the end. What was it like finally seeing Charlie Cox in that costume on the set and then on the screen?
SM: It was quite amazing. Like everything else, we had to figure out a way to marry the everyday life with the fantastical, and really justify why he was able to suddenly have this fantastic superhero costume. The story was that the character Melvin Potter, who created bullet proof and knife proof wardrobe for Fisk — Matt Murdock discovered this, and realized that maybe this guy could help him build a uniform that would protect him. 
We allow ourselves to accept that, as part of the story of the street-level hero coming into his own and becoming the character who he is. Daredevil is unlike the other characters who ultimately do not land in a superhero costume. Jessica Jones' superhero costume is her leather jacket and boots, and for Luke Cage it's his hoodie. And you'll have to see what happens with Iron Fist. 
Daredevil is the one character who did evolve into needing this costume. So to take him from this bad-ass, kick-ass vigilante look, to the Daredevil costume was quite extraordinary to see him climb into it for the first time.
You caught me before I even asked the question. A fun thing about all the series is they do fit within the same universe, but there is a different aesthetic to each of them. Daredevil may be a bit more fantastical — with Elektra and the Hand — where Jessica Jones and Luke Cage are not, from a costume perspective at least. Iron Fist fans know that Danny Rand has a classic costume — will we be seeing anything different with him?
SM: Well, that is something I am not allowed to reveal yet. Obviously, he fights. So, a great part of what he is about is the actual Iron Fist. That is sort of the focus of who he is. So, you will see how his look evolves into what he can wear or put on in terms of protecting himself and being agile. 
Since each of the series does have, at least partially, its own unique aesthetic, is there any challenge to merging them for The Defenders? 
SM: Each series has a different look, and a different vibe and a different feel, because each series is run by a different showrunner. That's why each show has a slightly different feel to it, although they are all dark and there are commonalities. All our characters struggle with their powers and the knowledge they are different than other people. 
As for tying them all together for The Defenders, that became a very interesting challenge. It is something I cannot talk about much. Suffice it to say, it was done beautifully. Each character in The Defenders really maintains their individual sensibility and tone. We didn't try to hide that. We embraced the differences between each character.
You have now worked with more comic book heroes on the TV side than many can say they have. Do you have a character you enjoy working with most?
SM: Oh that's a tough one. All of these characters are all so different and unique and they all bring such individual challenges to conceiving how they should look and how we can create this look that works well in daily life and in modern times in the 21st century. That in it of itself has been a challenge to keep these characters grounded and yet special. I will say that I love working with beautiful, high end, artful clothing. So, for that reason alone it has been a lot of fun to work with the villains, who are often better dressed than our heroes — except for Danny Rand who is a billionaire. 
At the same time, I really loved getting down and dirty and utilizing clothes for working class heroes like Luke Cage, and getting this stuff to look aged and old. There is so much going on with these costumes. There is a lot of fighting, a lot of stunts. There is a lot of blood and bullet holes and that presents a different challenge than dressing people who are incredibly high end. But I love it all. I loved designing Fisk's look, everything he wore was custom made. 
One of the things I like about these series is I get to do it all. I get to do some period, some flashbacks, high-end modern dress, low-end modern dress and some fantasy work. It continues to be a really exciting challenge for me. I can't really say there is one character over another that I love working with the most. As a costume designer, I love designing characters. 
Fans may not always realize how much goes on behind the scenes to make a film and/or television series. Can you talk about how you got involved — How did you get into costume design?
SM: You're absolutely right, it really does take a village to make a film. When you think about it, we will take a day to film one three-page scene. As for how I started, I graduated from college and wasn't sure what I wanted to do. I had always had a fascination with sewing and sewing machines — I got my first sewing machine at age 12 and started making clothes for my family. I like making things. Even though I do not do as much of that anymore as a designer— I more or less direct people to do things. 
In college, I studied history and literature, and didn't think I would land in any type of an artistic or designer field. I really thought I would go into something professional like academics. It wasn't until after I graduated from college that it dawned on me that what made sense was to become a costume designer. So, I started out with getting an internship at a regional theater. After my internship was over I moved to New York and really started making my way into the industry. 
Now that you have been working with Marvel, what else can you say about that experience?
SM: Working with Marvel has been an incredible experience. After doing five seasons with them, we developed a really good relationship and great trust, and they encourage me to pitch some ideas for certain characters, which really makes me happy.
I was not that involved with the creation and building of the original Daredevil costume, but that has really changed as the series has progressed, and I am now more involved with helping brainstorm ideas, and how these characters should look. So, that's really made me happy that Marvel has that kind of trust in me now, and I'm embracing that. Netflix is also a lot of fun to work with. It's a great place to be. 
Iron Fist will be released on March 17. Daredevil season one and two, Jessica Jones and Luke Cage are all currently on Netflix. 
Mic has ongoing Marvel coverage. Please follow our main Marvel hub here.