Two major issues President Trump's law and order administration need to address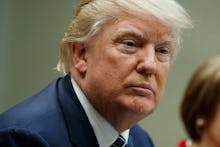 "We have to bring back law and order," Trump said time and again on the campaign trail. 
If he really wants to bring back law and order, here are a couple of areas where he could begin.
Police brutality
Being a police officer is a pretty safe job. Only 85 police officers died in the line of duty in 2015, the most recent year for which data are available. That may sound like a lot, but not when you compare it to, say, farmers (252 of whom died in 2015), agricultural workers (174) or motor vehicle operators (a whopping 978).
The fact is, a police officer is statistically much more likely to die in a car crash on the way to work than while on the job.
And being a cop is becoming safer, not more dangerous, despite Trump's claims that theress a "war on police." As Daniel Bier pointed out in Newsweek, police officer fatalities have declined steadily (with the exception of a brief spike in the '60s and '70s) since the end of Prohibition in the 1930s.
But police don't have a lot of oversight, and the police killings of Michael Brown in Ferguson, Freddie Gray in Cleveland and others in cities across the U.S. generated numerous calls for police reform. According to the Washington Post, police killed 963 people in 2016. Of those, half were white and a quarter were black. White people make up about 77% of the U.S. population, while black people make up about 13%, according to data from the U.S. Census Bureau. 
The Washington Post cites a study that shows police kill a disproportionate number of black men. In fact, the numbers show a black man being seven more times likely to be shot than a white man by police in records of fatal police gunfire.
Trump could push the Department of Justice to keep reviewing police departments where the numbers really stand out. Last Friday, the DOJ said it would stop its investigation of the Memphis Police Department, but later said it was back on.
Human rights
Another big area where Trump could improve law and order is human rights. While the U.S. is better in this area than many other countries, its citizens still have their human rights violated regularly, according to Human Rights Watch, a nonprofit that aims to expose human rights abuses.
For one, the U.S. locks up a huge number of its citizens, more than any other country. The prison population in the U.S. currently amounts to more than 2 million people — more than any other country, with China, Brazil, Russia and India trailing behind the U.S. to make up the top five. 
And our sentencing laws are harsher than those of many other developing countries. We still use the death penalty, which puts us in less-than-stellar company: According to Amnesty International, the countries with the most executions in 2015 were China, Iran, Pakistan, Saudi Arabia and the U.S., in that order.
Plus, prisoners' rights groups say that prisoners' rights are routinely broken behind bars. Experts qualify solitary confinement, in particular, as a form of mental torture — but the use of solitary confinement is on the rise in U.S. prisons, according to the American Civil Liberties Union.
If Trump wants to see the laws applied fairly, he should take look at the people in prison and the officers who put them there