'Mario Kart 8 Deluxe' release date and new features revealed for Nintendo Switch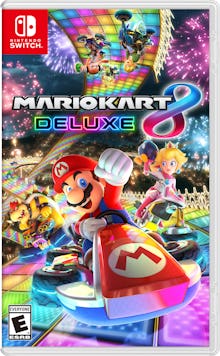 We finally know the release date for Mario Kart 8 Deluxe: The Nintendo Switch remake is launching on April 28, according to a statement from Nintendo.
The Switch edition of the latest installment in the iconic arcade racer series has been one of the most highly anticipated releases on the early Switch release calendar. It offers a similar experience to Mario Kart 8 for Wii U, but with a few new features, tracks and modes to enjoy.
Here's what we learned about Mario Kart 8 Deluxe.
Mario Kart 8 Deluxe: 5 New characters
Mario Kart 8 Deluxe will add five new racers to the game. Inkling Girl, Inkling Boy, King Boo, Dry Bones and Bowser Jr. are all joining the fray, bringing the total number of characters up to 42.
Mario Kart 8 Deluxe: New karts
The game is also adding some new karts, including a few Splatoon-inspired options. Nintendo didn't reveal any more on that front, but we should get a better look at the new kart lineup pretty soon.
Mario Kart 8 Deluxe: New racing features and items
Racers will now be able to carry two items at once, and item-stealing weapons like Boo and Jumping Feather will return to their pilfering ways. There's also an updated smart steering system that helps guide rookie players along the track.
Mario Kart 8 Deluxe: New Modes
Battle mode has been redone. It will be available both offline and online with up to four players. As expected, split-screen mode is also available for local multiplayer races.
Mario Kart 8 Deluxe is also adding a few other modes:
Renegade Roundup: One team attempts to capture and imprison the other in a time-based challenge mode.
Balloon Battle: Earn points by popping the balloons on your opponent's karts.
Bob-omb Blast: Throw a collection of Bob-ombs at opponents to wreck their karts.
Coin Runners: Race to collect as many coins as possible across the entire track.
More sports gaming news and updates
Are you a sports gamer? Check out more content from Mic, including news on Tips on leveling up your NBA 2K17 MyPlayer, playing quarterback in Madden 17, the latest information on MLB The Show 17 and the classic Nintendo sports games we want to see on the Switch.