Travel like a spy with these 5 CIA traveler tips divulged by WikiLeaks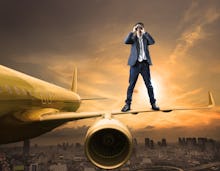 Sick of staycations and ready for your grand tour of Europe? Steel yourself. If you haven't taken a trip for awhile, it's easy to forget that as wonderful as it is, traveling can be a real pain — from TSA horror stories to credit card theft.
But an unlikely source is here to help: Thanks to CIA Engineering Development Group instructional documentation exposed by WikiLeaks Tuesday, the public can now see how United States intelligence agents are told to act while abroad, the Economist reported Friday. Some of the tips are actually helpful!
The advice will help you enjoy your trip more while stressing less: After all, who needs to avoid unnecessary drama — like airport pat downs — more than a bonafide spy? Read on for the CIA's best prescriptions for easy travel.
1. Alert your credit card company.
Your credit card company monitors account activity for suspicious behaviors— especially if your charging habits are typically limited to your local coffee shop. As the leaked documents suggest: "Be sure to call your credit card company and notify them of your travel to Germany."
The last thing you want is for them to freeze your card because unusual charges suddenly spring up in Berlin. No Pergamon Museum for you!
And even if you're just traveling in the U.S., you might give your credit card company a heads up that you will be using your plastic in another location, since an out-of-state charge might be flagged as suspicious as well.
Finally, remember to ask your credit or debit card company if they charge a foreign-transaction fee and whether they have international partnerships that could make taking out cash cheaper. Don't forget that your credit card should be chip enabled — without a chip, it might not work internationally.
2. Don't leave valuables lying around your hotel room.
Whether you stay at a five-star resort or an adorable bed and breakfast, you can never be too careful with your belongings. One creepy datapoint: Criminology professors at Ball State University and a hospitality professor at Florida International University tracked crime reports at 64 Miami Beach hotels — and found 38% of incidents occurred in a hotel room.
Even CIA agents are told to watch out. As the leaked documents warn: "Do not leave anything electronic or sensitive unattended in your hotel room."
If your hotel provides a safe, lock your valuable possessions — like cash, jewelry and passports — every time you leave the room. If not, lock up your suitcases and make sure GPS tracking is activated on technology like tablets.
3. Be chill in the airport security line.
Travelers who are most likely to be pulled for additional screening at the airport typically exhibit "shaking or trembling hands, rapid breathing for no apparent reason, cold sweats, pulsating carotid arteries, a flushed face, and avoidance of eye contact," the leaked documents caution.
So you probably want to just be cool during the TSA or foreign airport security process. If you get pulled for screening, try not to fidget, bite your lip or use vernacular like "to be honest" and "swear to God," per the CIA. Otherwise, you'll be hanging with security for quite some time — and might miss a flight.
4. Read up on cultures and customs.
Every country has different customs and routines, so you might be unpleasantly surprised if you planned a busy afternoon while traveling through Spain and didn't realize most of the country goes on afternoon siesta.
Indeed, the leaked documents warn, of travel to Germany: "If you arrive on a Sunday morning... expect to find most businesses (grocery stores especially) are closed. Some restaurants may be open."
Before going to any new country, pick up a travel guide that details customs, cultures and traditions. And remember, as the CIA helpfully points out, "Gas stations are not recommended for fine dining."
5. Spend leftover cash buying duty free.
If it's good enough for spies, buying duty free should be good enough for you too: Some top-of-the-line goods and spirits are offered at a 5% to 25% discount depending on the country and item.
As the leaked documents suggest: "Buy something in Duty Free, because you're awesome and you deserve it! (Might I recommend a travelers' edition single malt whisky?) Leave with as few Euros in your pocket as possible."
Sign up for The Payoff — your weekly crash course on how to live your best financial life. Additionally, for all your burning money questions, check out Mic's credit, savings, career, investing and health care hubs for more information — that pays off.