Former North Carolina Gov. Pat McCrory's job-hunting woes are ironic AF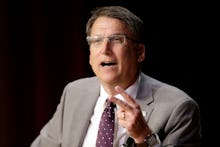 For a cisgender man who spent the latter part of his governorship pushing highly controversial policies that openly discriminate against transgender individuals in North Carolina, Pat McCrory isn't a natural candidate for public sympathy.
In March 2016, McCrory signed House Bill 2, state legislation that prohibited North Carolina municipalities and state-funded institutions from making public bathroom accommodations for LGBTQ people. A lesser-discussed part of the Public Facilities Privacy & Security Act also stripped decades-old protections against employment discrimination on the basis of race, sex, religion or disability. 
HB2 sparked nationwide outcry, cost the state hundreds of millions of dollars in economic benefits due to corporate boycotts and, unsurprisingly, cast McCrory as an unrepentant bigot.
That McCrory, who lost re-election to a Democrat in 2016 and left office in January, has reportedly experienced mild difficulty becoming gainfully employed because of his religiously held beliefs is ironic AF.
The legislation "has impacted me to this day, even after I left office," McCrory said recently in an interview with WORLD, a far-right evangelical Christian news outlet. "People are reluctant to hire me because, 'Oh my gosh, he's a bigot,' which is the last thing I am."
McCrory is on record justifying the HB2 policy that forces transgender men and women to use public bathrooms that match the gender assigned to them at birth. He reasoned that sexual predators might exploit transgender-affirming bathroom policies to harm women and children, a line that critics dismissed as patently transphobic.
"If you disagree with the politically correct thought police on this new definition of gender, you're a bigot, you're the worst of evil," McCrory said in the WORLD interview. "It's almost as if I broke a law."
On Monday, the News and Observer further pressed McCrory on his alleged job-hunting woes. The former governor said some universities are reluctant to offer him a job because of student protests, while other companies are simply trying to avoid the public relations nightmare of hiring him. McCrory declined to name the schools and companies he's talked with, the News and Observer reported.
"That's not the way our American system should operate — having people purged [from the workforce] due to political thought," McCrory told the newspaper. 
Adding to the irony, HB2 killed the North Carolina Equal Employment Practices Act, a 1985 state law that afforded North Carolinians the right to sue former employers over wrongful job termination on the basis of religion, race, color, national origin, age, sex or handicap. According to the North Carolina Justice Center, the legislation McCrory signed took away existing law protecting Christians against being fired on the basis of their faith.
So, if ever the former governor were fired from any future jobs for his beliefs, he couldn't sue for wrongful termination in state court.
The irony of McCrory statements wasn't lost on North Carolina Democratic Party spokesman Mike Gwin, who on Monday threw a bit of shade at the former governor.
"North Carolina has already lost hundreds of millions of dollars in economic activity and thousands of jobs as a direct result of House Bill 2, but I guess we can start adding Gov. McCrory's career to the total as well," Gwin told the News and Observer.