Best places to travel: 10 affordable but dreamy destinations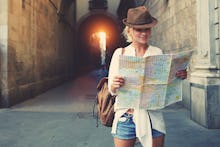 The winter blahs can inspire even the most frugal spender to splurge on a destination vacation, especially during a March blizzard. But a dream vacation doesn't have to mean you break the bank — you just have to know how to make some of the hottest spots in the world more affordable.
Luckily, Money did the work for you, with its second annual Best in Travel ranking. Its study examined hundreds of popular destinations and drilled its list down to 10 domestic and seven international locations for value.
Factors for domestic picks include average airfare, hotel rates, food and drink, and rental car and public transportation along with cost of living. Those were given the most weight for domestic locations, followed by year-over-year cost differential — to show where new deals are emerging — and then attractions, safety and weather were factored in.
To identify international winners, Money weighed exchange rates and the price of hotels, airfare, transportation, and food and drink. It also looked at year-over-year changes in hotel prices, airfare and exchange rates along with attractions, amenities and safety.
Want to know the TL;DR? Here are the five best domestic and five best international spots on the list. Grab your passport, sunscreen and some spending money to gear up for a vacation of a lifetime.
Best places to travel: top 5 U.S. destinations
For these picks, there's no passport needed — just your sense of adventure and willingness to try something new. Bon voyage!
5. Albuquerque, New Mexico
Weeklong trip cost for two: $2,194
October seems to be the month to hit Albuquerque for its annual Albuquerque Balloon Fiesta, but summer is also a great time for the city's epic Summerfest celebrations. Touting more than 100 galleries and considered to be one of the best cities for foodies, Albuquerque is the ideal getaway any time of year.
Money recommends booking a room at either the local Hyatt or Doubletree for about $100 a night, or go for the gusto and make four-star accommodations at Hotel Andaluz for less than $200 per night. Dining options abound, but check out places like Pop Fizz for a sweet experience or The Farmacy for brunch.
4. Fort Worth, Texas
Weeklong trip cost for two: $2,281
Money liked Fort Worth, thanks to an 8% drop in airfare in a year and affordable hotels. Although visitors have plenty of chain-hotel choices, you also might check out the "possibly haunted" Miss Molly's Hotel, which received almost a five-star ranking on Yelp. Room rates start at $125, but the price also includes any ghostly visits. The Stockyards Hotel, the infamous hideout for Bonnie and Clyde, is pricier but has history.
Attractions include the Texas Civil War Museum, the Stockyards National Historic District or a Broadway show at Bass Performance Hall at only about $44 a ticket. And for tacos to make you melt, there's Velvet Taco for good eats under $10.
3. Bar Harbor, Maine
Weeklong trip cost for two: $2,914
Bar Harbor made number three because of the airport choices, free nature activities and hotel prices under the national average. The destination is a hiker's paradise, boasting 120 miles of sprawling hiking trails in Acadia, not to mention boating opportunities on the Sea Princess Cruise line.
Charming hotels plus reasonable chains pepper the Bar Harbor landscape, including the Bar Harbor Grand where room rates in early spring are as low as $99 per night. Camping is another option if you want to truly soak in nature. You can't visit Bar Harbor without sampling the lobster, and the Travelin Lobster, LLC offers complete lobster dinners for $35.
2. Estes Park, Colorado
Weeklong trip cost for two: $2,698
Airfares to the Denver airport are considerably less expensive than the national average, and visitors have their choice of hotels. For a lodging experience with nature, StoneBrook Resort on Fall River offers ruggedly charming cabins and cottages with suites as low as about $109 per night in April. Or you can splurge and stay at The Stanley Hotel, which was the inspiration for Stephen King's The Shining at $300 per night. Or maybe not.
Spring and summer activities include hiking, fishing and mountain biking, but also the MacGregor Ranch Museum and the Enos Mills Cabin Museum should not be missed. For an authentic dining experience, hit Rock Inn Mountain Tavern for fried pickles and local beer.
1. St. Augustine, Florida
Weeklong trip cost for two: $2,507
Scoring the number-one spot in the U.S. is one of the most historic destinations in the country: St. Augustine. The city took the top place because hotel rooms are a fraction of the amount you'd pay in South Florida, and flights are still relatively inexpensive compared to other popular destinations.
See the city on the hop-on-hop-off trolley tour at about $26 per person, or hit one of the famous ghost tours for as little as $16. Famous historic sites include the St. Augustine Lighthouse, the Pirate and Treasure Museum and the Alligator Farm Zoological Park. You might also schedule beer-tasting at Bog Brewing Company or sample Florida's award-winning wines at the San Sebastian Winery. 
Best places to travel: top 5 destinations abroad
Exotic and romantic destinations await, for less than $4,000 per couple, according to Money. Here are the top five spots. 
5. Paris
Weeklong trip cost for two: $3,918
Thanks to the Euro's drop against the dollar, international travel is more affordable than ever. Since last year, airfare to Paris is down 21% and hotel rates dropped by 7%.
First-time visitors shouldn't miss the Notre Dame Cathedral, the Louvre museum and the Eiffel Tower — plus the 18th arrondissement, where you can experience the sights and smells of the bakeries and cheese shops. Hotel choices include affordable options like the Hotel Residence Foch, currently offered at $140 per night Trip Advisor or Hotels.com in April or Le 1er Etage Marais at $225 a night through Hotels.com in April. For dining, Trip Advisor recommends Les Apotres de Pigalle, referred to as "tapas worth the wait."
4. Cuzco, Peru
Weeklong trip cost for two: $3,005
Hotel rates are down, and the delicious Peruvian food is affordable and famous, winning the World's Leading Culinary Destination for the fifth year in a row at the 2016 World Travel Awards. Money notes the average meal is about $18 for two at any mid-range restaurant in Cuzco, so bring your appetite.
Lodging is affordable — from the hip Sosnesta Hotel Cusco to the Incan experience at Hotel Rumi Punku. Top activities include hitting the Inca Trail and visiting the Centro Historico De Cusco.
3. Crete, Greece
Weeklong trip cost for two: $3,642
The stunning bright-blue water that complements the white-washed buildings make Crete the destination of a lifetime. Money chose it because airfare has gone down by 9% since 2016, and hotel prices dropped, too. Since the area covers 3,200 square miles, Money suggests picking one area and planning your hotel, restaurants and activities around it. The quaint city of Chania is a popular tourist destination, along with relaxing Agios Nikolaos and historic Knossos.
Restaurants to check out include Chrisostomos and Tamam, both in Chania, along with Kastella in Heraklion, according to Santorini Dave. Along with the famous beaches, visitors can take a hiking tour in Samaria Gorge or go for the full-hour tour of breathtaking Santorini.
2. Bali, Indonesia
Weeklong trip cost for two: $2,579
Almost less expensive than traveling domestically, Bali can be seen for a fraction of what it used to cost. Money cites hotel prices are down by 22% year over year, and the Indonesian rupiah is down 4% against the dollar. Taxi trips are a mere $0.50 per mile, and a mid-priced meal for two averages $11 to $17. You can even score $2 beers outside of happy hour.
Bali is a vast area, so you'll have a wide choice of hotels, restaurants and attractions. The Royal Mengwi Temple, Monkey Forest and Tanah Lot Excursion offers both history and culture for $61 per person, while the Tanah Lot Temple is one of the most emotional and inspirational points in the area. A number of luxury hotel choices are available, including the Alaya Resort Kuta in Kuta starting at $62 per night on Hotels.com, and RIMBA Jimbaran Bali By AYANA in Jimbaran, starting at $139 per night on Hotels.com.
1. Hanoi, Vietnam
Weeklong trip cost for two: $2,600
Ranked number one on Money, thanks to the bustling excitement in the streets and affordable hotels and restaurants. Couples can wine and dine for less than $25, and find glorious accommodations for less than $100 a night.
In the heart of the city, Hanoi Elegance Ruby offers five-star accommodations for less than $60 per night. Talk about affordable — rooms are available for around $25 at Trip Advisor's 2017 Travelers' Choice Hanoi Holiday Diamond Hotel on Agoda.com. See the city by motorbike for a $49 full-day tour, or take a half-day excursion to Hanoi's historical sites for $39.
Sign up for The Payoff — your weekly crash course on how to live your best financial life. Additionally, for all your burning money questions, check out Mic's credit, savings, career, investing and health care hubs for more information — that pays off.