Meth? Trans? The tea? The official explanation to Grindr's mysterious 'T' emoji.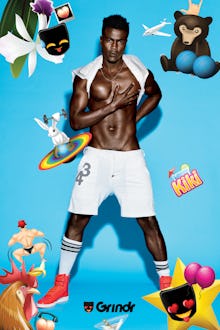 Grindr, the gay dating app that sometimes dabbles in "geeky and sexy" fashion and has a "poet in residence" among its staff, made headlines on Tuesday with the launch of Gaymojis — a text-friendly package that features 500+ emojis that seeks to "bring the Grindr lifestyle to life and speak to the mobile dating generation." 
Among the patented emojis are a buffet of gay stereotypes including a hot dog, a disco ball, a unicorn, splooge and a bound, harness-clad man on his knees. 
"Gay men, we're a sexual bunch," the app seemed to not-so-subtly imply.
There was also a mysterious now-deleted letter "T" that had many wondering the meaning behind it.
Did it stand for crystal meth? 
Or was it a reference to "spilling the tea"?
Or is the "T" in reference to trans people?
Polls even sprouted up online in response.
So what's the real meaning behind the gaymoji "T"?
"The 'T' gaymoji was intended to follow the 'D' and resemble the acronym 'DT,' also known as 'down to' followed by whatever it is that the user is down to 'do,'" a spokesperson from Grindr said in an official statement to Mic. As for whether or not it will resurface: "The 'DT' gaymoji will be available in the next refresh."
So there you have it. The case of the mysterious Grindr "T" has been resolved. Rest easy.