Renting an apartment? 5 signs that rental listing is a scam.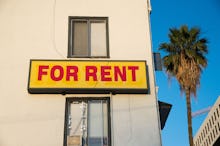 The online photos were amazing, the broker couldn't have been nicer and the price was right. But when you finally got to check out the apartment in person, turns out it's a dump that looks nothing like the photos. And the broker is nowhere to be found. You've been scammed, and you're not alone.
Rental listings are rife with scams — from misleading photos to fake listings altogether. In March 2016, NYU researchers  tracked two million apartment rental postings in 20 major cities on Craigslist and found at least 29,000 to be fake. 
In one popular scam, the person posting the fake listing asks to check your credit via a link they provide before you ever see the place, Trulia reports. The link goes back to a credit reporting company that uses a referral program, the scammer makes a few bucks, and you still have nowhere to live.
"You can't be too careful and can reduce the possibility of being scammed by doing your homework," Katherine Hutt, director of communications for the Council of Better Business Bureaus told Mic.
That means knowing the five red flags that should make you think twice before you rent an apartment or house:
1. The broker communicates only by text or email
Landlords or brokers who refuse to meet in person and show you the place have something to hide, Hutt said. "It could be that the place exists, but the person 'representing' the property isn't the actual agent, or the place exists but isn't for rent," she explained. "If they won't speak with you, or meet with you in person, you should certainly take pause and wonder why."
Also be wary of listings that are riddled with poor spelling or grammar, as they may be coming from overseas, Hutt said. "Plenty of scams are rooted overseas because they are outside the reach of U.S. law enforcement," she said. With these scams, the so-called agents are trying to get you to make a deposit or pay an application fee on a place that may not even exist.
As a rule, don't provide any financial information, like your bank account, credit card information or social security number, until you've actually seen the place and met the broker or landlord in person. And never agree to a credit check until you have actually applied for the apartment.
2. The listing seems too good to be true
If the price or property seems too good to be true, what you see isn't necessarily what you'll get. Typical "too good to be true" scams include rent below market value and out of this world amenities.
A woman in Bakersfield, California, almost lost $1,800 when she thought she was going to rent a home priced below current market value, only to discover the property was not for rent, but for sale — from a different broker. 
Be extra cautious and ask extra questions when a place is way out of the typical price range for the neighborhood. Unless there's a legitimate reason why it's available for such a bargain — such as an obvious flaw that is fully disclosed up front — there's a good chance it's a scam.
3. Something's fishy about the photos
One of the easiest ways to spot a fake listing is by studying the pictures. "In the case where the property may not exist, the scammer might pull photos from different locations to create this fake property," Hutt said. Look for continuity to make sure all the pictures look like they come from the same property. If it looks like something is off, chances are it is.
Be suspicious of overly retouched images, which could "edit out" property flaws or problems. If you can get your hands on photos from the property's actual owner, great, but if not, use Google Earth or Street View to ensure at least the exterior of the property is close to what you are trying to rent.
4. Property has bad (or no) traceable information
Sometimes the listing posted online doesn't even exist. The scam here is that the broker is trying to get you to send them money before you realize that. Don't fall for that trick. 
"One easy way to find out if the rental is legit is to perform a quick search of the broker or property's phone number," Hutt noted. Check the apartment address to see if you can find the same listing in other cities or states, as some shady listings are posted in multiple cities.
5. The broker wants you to pay by wire transfer
Never wire your deposit. Before you make any kind of payment, do a little research to make sure the broker is licensed and see if there have been any complaints about them.
When it comes time to put money down, "never use a payment method that cannot be tracked or reversed," Hutt added. "Instead, use a credit card, because you can dispute that charge if the property turns out to be fake."
If the broker won't accept a credit card — and many won't — pay in a way that can be tracked. Make a copy of your check. Get a receipt for any cash deposits or payments. And never hand over the first month's rent before you get the apartment keys. 
If you've been scammed, report it to the police. If you suspect a listing is a scam, report it to the site where it's listed. You can also use the Better Business Bureau's scam tracker to report what happened and make sure others don't get cheated too. 
Sign up for The Payoff — your weekly crash course on how to live your best financial life. Additionally, for all your burning money questions, check out Mic's credit, savings, career, investing and health care hubs for more information — that pays off.