What LaVar Ball can teach America about black fatherhood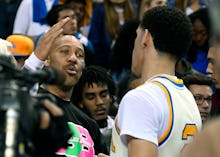 The star of this year's NCAA men's basketball tournament isn't a hot shot young player. It's a 49-year-old married father of three who lives in a suburb roughly 40 minutes east of Los Angeles. 
His name is LaVar Ball. His confidence in his basketball-prodigy sons is boundless. And, for better or worse, he's firmly in control of his sons' basketball destinies, turning the false narrative of absent black fathers on its head along the way.
Ball's eldest son, Lonzo, is the freshman star of UCLA's men's basketball team and is widely expected to be a top pick in this year's NBA draft. His middle son, LiAngelo, scored 60 and 72 points in separate games this year, his last, at Chino Hills High School; he's also heading to UCLA. And youngest son LaMelo, only 15-years-old, scored 92 points in a game earlier this season. He committed to play for UCLA two years ago, back when he was the eighth grade.
All of this is part of LaVar Ball's plan, one that he has not been afraid to share with whoever asks — and even people who don't. Back when he met his wife, Tina, when both were student-athletes at Cal State Los Angeles, instead of introducing himself, he just said, "I don't know what we gon' do, but we gonna do something." That "something" turned out to be raising three basketball prodigies. The logic for him was simple: he's 6'6", his wife is 6 feet tall and his last name is Ball. It was destiny.
But crucially, Ball says it was also fun. "You're spending time with each other, it's a family thing," he said of shooting baskets and training with his sons when they were smaller. "After it's all said and done, 'Time to eat boys, let's go inside and talk.'"
His plan wreaks of the kind of pushy sports dad stories that don't often work out, but Ball insists that his sons are passionate about the game, and he just facilitates that passion. But it's his bold pronouncements that have gained him infamy. He's said, in no short order, that Lonzo is already better than two-time NBA MVP Steph Curry; Lonzo will also play for the hometown Los Angeles Lakers ("Speak it into existence," LaVar says); and that he could've beaten the G.O.A.T., Michael Jordan, in his prime. 
"I say stuff that come right out of my mind that I feel," he said in an interview with NBA analyst Chris Broussard. "You got to be careful when you work for somebody, but I ain't got nothing to lose, I can say what I want."
Along the way he's gained plenty of critics: his ego threatens to overshadow the tournament altogether; NBA executives are "concerned"; he may be hurting Lonzo's draft stock; he's "out of control," a "bad sports parent."
But he's not backing down, and balks at the idea that he's too involved. "I been in my sons' life all this time," he told Broussard. 
Even if you take LaVar's bragging as standard barbershop braggadocio, here's what really makes people uncomfortable: He's in control. He and his wife founded their own apparel company, Big Baller Brand; LaVar told Broussard that it would take a $1 billion investment from an apparel company like Nike, Adidas or Under Armor, to work with the family's brand. It was a laughable statement, considering that even LeBron James, the longtime face of the NBA, has a contract with Nike that's reportedly worth $30 million per year (some say it's much more). But, from a business end, LaVar was telling the world — the business world, specifically — that his family's not new to this, and they're out to enjoy the rewards of their own spoils as much as NBA franchises and apparel companies. 
In an industry that routinely exploits amateur and professional black athletes, Ball is determined to control the narrative of his sons' careers. And that makes a lot of people uncomfortable. Black athletes, as entertainers, are often seen in a vacuum — unusually gifted with superior athletic talent. But that talent takes time, money, and people to develop. Contrary to the popular myth of black athletes who rise up from poverty, most are much like LaVar's children — middle class, with access to gyms and equipment. 
What LaVar's doing is exposing the vast support system that every professional athlete requires to become successful — the years of nonstop training, the Amateur Athletic Union coaches and personal trainers, the boosters and shoe companies, and, yes, their own families. More often than not, these support systems are made up of a host of people who work together. In this case, the Ball brothers' support system is owned, operated and advertised solely by their own father. 
Dr. Todd Boyd, a professor of race and popular culture at the University of Southern California, doesn't think that LaVar's big talk is doing much to advance his sons' careers, but does note that his presence contradicts the myth of absent black fathers.
"I think there's a stereotype in the culture at large of the absent black father," Boyd said in an interview with Mic. "So many stories we hear about athletes have to do with absent black father image, and he's obviously not absent. He's very present."
That double standard is itself an outgrowth of an even more deeply ingrained myth: That of the deadbeat black dad. Originally perpetuated by white supremacists to downplay the destruction that slavery inflicted on black families, the myth of the deadbeat black father is one of the most enduring in American culture. But statistics just don't back it up. Black fathers, whether they're married or single, are actually more involved on a daily basis than dads of other races, according to a 2013 study from the Centers for Disease Control. 
Say what you will about LaVar Ball. Is he outlandish? Sure. Irritating? Sometimes. But he's also, by all public accounts, a great dad. He dotes on his sons and relishes any opportunity to talk about his family. In a sport that, 20 years ago, was plagued by stories of absent black fathers, LaVar has become the most recognizable black father in America. And whether you love him or hate him, he's not going anywhere.