'Diablo 3' Hellfire Amulet Worth It? Recipe, materials and everything you need to know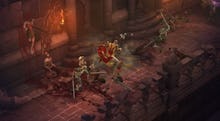 If you're a Diablo 3 player, you may have heard about the Hellfire Amulet before, a coveted item that's well worth the time required to obtain. Here's everything you should know about the sought-after Hellfire Amulet, in case you decide you want one of your very own in the game.
Diablo 3: What is the Hellfire Amulet?
The Hellfire Amulet is a craft-able legendary item that could be a game-changer, according to D3Domination. Not only does it roll stats for level 70, but your character only has to be level one to equip it. 
It offers the character five passive skill that cannot be re-rolled once the amulet has been crafted. So it takes a while to get the optimal combination of stats. 
It also has a special secondary stat that can offer a random passive skill appropriate to your class. If rolled correctly, it could massively power up your character in formidable ways. It's certainly an item you'll want to get if you play Diablo 3 at all, especially if you've got a lot of extra time.
Diablo 3: How do you get the Hellfire Amulet?
You're going to need to spend a lot of time working toward getting this special item. According to D3Domination, you'll have to perform quite a few steps if you're looking to get one of your very one, including crafting it. First, you must have Reaper of Souls in order to get the crafting materials to make it since there are materials out there that you need that you can only get at level 70. 
You'll have to attain 21 different drops in order to create your Legendary amulet, and it won't be an easy road. You'll also need 5 million gold as well as 10 Forgotten Souls as well as an overabundance of free time. It's going to be a long and daunting road, but you can certainly achieve it with a lot of patience and time. 
More gaming news and updates
Check out the latest from Mic, including our deep dive into how female Overwatch players are dealing with online harassment, a cool making-of video for Legend of Zelda: Breath of the Wild and an investigation into what a Bechdel test for gaming might look like.