How a Trump rollback of emissions standards would impact the environment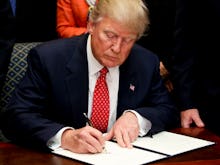 On Wednesday, President Donald Trump announced a freeze on Obama-era emissions and fuel rules designed to curb climate change.
Trump plans to "re-examine" the Corporate Average Fuel Economy standards, which regulate the fuel economy of certain automobiles manufactured in the United States. 
In February, the Alliance of Automobile Manufacturers, an industry group, asked Environmental Protection Agency chief Scott Pruitt to re-review the CAFE standards, which affect autos produced from 2022 to 2025, the Washington Post reported.
Trump already promised to cut regulations
The group, composed of 20 major automakers, argued that the Obama administration had not conducted a "robust" review of the standards, and said they "should be reviewed and withdrawn" because they "threaten to depress an industry that can ill afford spiraling regulatory costs," the Post reported.
On the campaign trail, Trump promised to cut regulations that limit U.S. companies' productivity and hurt U.S. workers, including regulations aimed at curbing earth's rapid climate change.
But environmental groups say the standards are key to combating climate change.
Citizens' health could be endangered
"We need to put clean car standards in the fast lane to keep our air clean and our climate safe," Michael Brune, Sierra Club executive director, said in a statement. "Donald Trump and the automakers are endangering the health of our children and families by abolishing life-saving vehicle emissions protections that cut down on dangerous smog pollution and asthma attacks."
World CO2 emissions stayed relatively flat for the third year in a row in 2016, an encouraging sign for climate change scientists. But most of that change was driven by China reducing its emissions, experts said.
Other environmental groups said rolling back the Obama-era rules could make U.S. automakers less competitive. 
"Nearly three in four vehicles sold globally today are subject to existing fuel efficiency standards," Jason Mathers of the Environmental Defense Fund wrote in a blog post Wednesday. "If we want to export American-made cars to China or France a few years from now, in other words, we'd better make sure these standards remain in place."
And Mark Tercek, president and CEO of the Nature Conservancy, called on automakers to meet the Obama-era rules. "In the quest for jobs, the Trump Administration is about to reconsider the fuel economy standards that President Obama adopted. As this happens, there are two things for the rest of us to watch," Tercek wrote in a blog post Tuesday. "First, does the automobile industry continue to produce miraculous new technologies that meet the most important environment challenges of each new era? Or do they take advantage of the political situation to retreat from a new challenge? It is one thing to make a minor midterm adjustment. It is another to abandon important national goals."