Oklahoma state senator, Trump backer reportedly charged with soliciting prostitution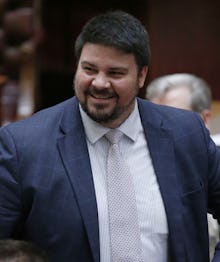 Oklahoma police have recommended prostitution charges against state Sen. Ralph Shortey, an early backer of President Donald Trump's election campaign, according to multiple media reports.
Shortey allegedly checked into a Motel 8 in Moore, Oklahoma, alongside an underage boy shortly after midnight on March 9. Police arrived 30 minutes later, Oklahoma City Hearst affiliate KOCO-5 reported. The charges recommended by police include soliciting prostitution of a minor; prostitution within 1,000 feet of a church; and transporting for the purpose of prostitution, KOCO-5 reported.
Shortey did not immediately respond to a request for comment.
A spokesperson for the Cleveland County District Attorney's Office confirmed that police had been investigating Shortey and had presented their findings to the district attorney's office.
Local politicians were quick to condemn Shortey.
"We condemn the actions of Sen. Ralph Shortey to the strongest degree," Pam Pollard, Chairman of the Oklahoma Republican Party, said in a statement. "While we believe in the right to a fair trial and that all people deserve their day in court, the accusations against Ralph Shortey are in no way in line with the principles of the Oklahoma Republican Party."
"Clearly, we are horrified by the allegations against Senator Ralph Shortey and that he may have taken detestable actions against children," she continued. "If proven to be true, appropriate justice should be served."
Oklahoma Democrats called on Shortey to suspend himself. "While a final resolution should await completion of the police investigation, Sen. Ralph Shortey owes it to his constituents and all taxpayers to suspend himself from all official activities," Mark Hammons, Oklahoma Democratic Party chair, said in a statement. "This is far too embarrassing to have him speak, vote or represent Oklahoma on any issue."
Moore police, who are reportedly investigating Shortey, did not immediately respond to a request for comment.
Shortey endorsed Trump for president in October 2015. Trump's campaign touted the endorsement in a press release. On March 10, 2016, Shortey posted a photo of himself posing alongside the president's son, Donald Jr., on Facebook.