Stop paying full price: Here are the best days of the week to buy everything on sale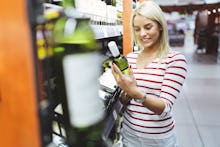 Feel too busy during the work week to run errands? Know that a little planning ahead — and skipping happy hour for a targeted post-work shopping spree — can actually save you tons of cash.
That's because weekend shoppers actually miss out on sales and discounts for many items, including booze, ice cream, produce, cleaning products, beauty supplies and other stuff. Analyzing years of retail trends, shopping app Ibotta found that none of those surveyed products were less expensive if purchased on a Saturday or Sunday.
Blame weekend competition from other consumers, said Bryan Leach, Ibotta's CEO: "Saturday and Sunday were the worst or most expensive days to shop for most products, but had the highest traffic," he said in a phone interview.
Even during the week, some days are worse than others because retailers are responding to fluctuations in demand, he said, and they are constantly adjusting prices to maximize the money they can make.
So how can you maximize your dollar — by shopping for certain items only on certain days of the week? Ibotta shared data on popular product categories, showing when you should buy and which stores offer the best prices.
Here's what we learned.
Beer and wine go on sale early in the week
You'll pay a lot more picking up a bottle of wine or six pack of beer on a Saturday, Ibotta found. In fact, beer is 9% cheaper if purchased on Monday and wine is 6% less expensive if purchased on Tuesday on average.
A six pack of beer is cheapest at Walmart at $7.75, followed by $8.11 at Target and $8.39 at Kroger. For a bottle of wine, you'll pay $9.23 at Walgreens, then $9.39 at Walmart and $9.61 at Sam's Club, on average.
Ice cream costs less on Monday
Americans love ice cream, consuming an average of 48 pints each year. While there's never a bad day for ice cream, you can save 9% purchasing ice cream on Monday on average rather than buying it on Sunday. 
You'll find the lowest prices for ice cream at Dollar General ($3.01), Family Dollar ($3.26) or Walmart ($3.35). Those prices are the average across the entire ice cream category.
Produce and cleaning products are cheapest mid-week
You might be wasting money: Millennials shop at natural grocery stores like Whole Foods, Sprouts and Natural Grocers about 56% more than non-millennials, but would save more money at stores like Food4Less, Albertsons and Kroger. In fact, a little shopping around can save you big, especially when it comes to organic produce — as Kroger, Walmart and Costco actually offer organic fruits and vegetables at a competitive price.
And timing matters. When it comes to produce, you can save about 3% if you purchase produce on Wednesday, with the most expensive day being Monday. Need more dishwasher soap? Know that cleaning products are also 3% cheaper on average if you buy on Thursday versus Sunday.
Stores to hit for the best prices on cleaning products include Family Dollar (for an average price of $3.37), Dollar General ($3.42) and Walmart ($3.71).
Beauty products have the most savings
Shoppers saved 11% on average when they purchased beauty products on Monday, with Sunday being the most expensive. Products included standard beauty items like nail polish, makeup and hair products normally purchased at a drugstore or large discount store retailer, Leach said.
Beauty products were least expensive when purchased at Family Dollar ($3.45 on average), Dollar General ($3.46) and Kroger ($3.88), Ibotta found.
Sign up for The Payoff — your weekly crash course on how to live your best financial life. Additionally, for all your burning money questions, check out Mic's credit, savings, career, investing and health care hubs for more information — that pays off.