Trump's Travel Ban: What happens next for the legally challenged executive order?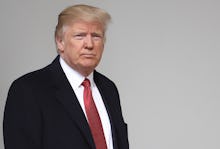 In a blow to President Donald Trump's immigration agenda, two federal judges have blocked his revised ban on travel from six Muslim-majority countries.
After the state of Hawaii sued, claiming the executive order would "damage the state's educational institutions and private businesses" and "discriminate against families with relatives overseas," a federal judge placed a nationwide hold on the order, citing a "strong likelihood" the state would win its case. 
On Thursday, a Maryland judge halted the order's 90-day ban on immigrant visas from Iran, Libya, Somalia, Sudan, Syria and Yemen.
See you in court (again)
"This is, in the opinion of many, an unprecedented judicial overreach," Trump told a crowd Wednesday at a Nashville rally.
The courts had previously rejected Trump's original travel ban, which included Iraq on the list of banned countries and, in some cases, barred entry to the United States by permanent residents, aka green-card holders.
Trump has called the revised ban a "watered-down" version of the first, CNN reported, though it evidently wasn't watered-down enough to convince the courts of its constitutionality.
Now, Trump must convince two appeals courts to overturn the judges' rulings, Stephen W. Yale-Loehr, a professor of immigration law at Cornell Law School, told the Washington Post.
Trump's got some explaining to do
First, Trump would need to convince a three-judge panel from the Ninth Circuit Court of Appeals to freeze the stay. In addition to Hawaii, the Ninth Circuit covers Washington, where a judge blocked Trump's original order. According to the Washington Post, the same federal judge who issued that stay is now considering challenges to the revised version. But overturning the most recent hold might be a tall order, because the Ninth Circuit has a reputation for being liberal. 
Lawyers would also need to argue Trump's case before the Fourth Circuit Court of Appeals, which covers Maryland and is generally considered somewhat more conservative. If both appeals courts ruled against the ban, the next step would be appealing to the Supreme Court. Trump has vowed to take the case that far, if necessary.
One issue appellate courts will have to consider is how much stock to put in Trump's comments that the United States should specifically bar Muslims from entering the country. The 9th circuit found that Trump's words reflect an intent to target a specific religious group, which violates the First Amendment to the Constitution's establishment clause.