3 takeaways from Trump's budget plan for 2018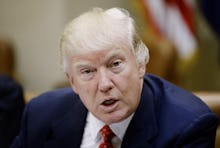 On Thursday, President Donald Trump released a detailed budget proposal for 2018. True to his earlier announcement, Trump's budget is heavy on military spending and contains massive cuts to domestic spending. While the proposal isn't a budget per se — Congress, not the president, holds the purse strings — it's a good indication of what the president wants to see happen.
Here are three big takeaways:
EPA hardest hit
On the campaign trail, Trump promised to take a cleaver to the Environmental Protection Agency. His new proposed budget would do just that, slashing the agency's budget by 31%. "The president wants a smaller EPA. He thinks they overreach, and the budget reflects that," Mulvaney told reporters.
Trump's budget would cut "more than 50 EPA" programs, including the Clean Power Plan, an Obama-era initiative designed to reduce greenhouse gas emissions from power plants.
The initiative is opposed by fossil fuel companies, but climate change scientists support it. The Union of Concerned Scientists, for one, called it "a climate game changer" and said it "represents the most significant opportunity in years to help curb the growing consequences of climate change." 
The EPA estimates that, if left intact, the plan would see carbon pollution from power plants 32% below 2005 levels.
State Department slashed, too
The State Department would be almost as hard hit as the EPA under Trump's budget, losing nearly 30% of its funds. While the Trump administration has vowed to maintain and strengthen embassy security, other State department functions, such as those to do with foreign aid and assistance, will be cut.
The budget would also cut funding for climate change programs, including U.N. climate change programs. The Global Climate Change Initiative, which helps poorer countries invest in renewable energy, would be cut altogether.
Other dollars intended for the U.N. would also be cut, including some for peacekeeping efforts.
These changes are in line with Trump's "America First" policy. Currently, in addition to footing the bill for the New York headquarters of the U.N., the U.S. is tasked with paying for 22% of its operating costs.
Programs generally not deemed by the administration to serve U.S. interests first and foremost were slashed.
The budget would also change some military spending from grants to loans, which must be paid back by the recipient.
Deep cuts to public broadcasting
Trump's proposed budget would cut $445 million from the Corporation for Public Broadcasting, which represents its entire budget. The CPB supports public media like PBS and NPR. NPR, for example, got about 10% of its budget from CPB in 2015. 
"When you start looking at places that we reduce spending, one of the questions we asked was can we really continue to ask a coal miner in West Virginia or a single mom in Detroit to pay for these programs? The answer was no," Mick Mulvaney, director of the White House Office of Management and Budget, said on MSNBC's Morning Joe Thursday morning.
Public broadcasting executives shot back. "The cost of public broadcasting is small, only $1.35 per citizen per year, and the benefits are tangible: increasing school readiness for kids 2-8, support for teachers and homeschoolers, lifelong learning, public safety communications and civil discourse," Paula Kerger, CEO and president of PBS, said in a statement.
Patricia Harrison, president and CEO of CPB, said the cuts would "devastate and ultimately destroy public media's role in early childhood education, public safety, connecting citizens to our history and promoting civil discussions – all for Americans in both rural and urban communities," Variety reports.