The 5 hardest job interview questions — and how to answer them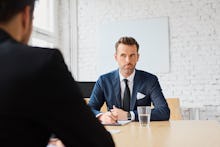 Job interviews can be distressing enough, but how do you respond to a question that takes you off-guard and could possibly derail your path to employment? Should you try to respond to questions like, "If you were an animal what would you be?" or "Tell me why you really left your job?"
Of course you should never answer inappropriate and illegal questions about your family, religion, political views and age, Adrian Granzella Larssen, editor-in-chief of career site the Muse, said to Mic by phone: "Anything family-related or your marital status is not appropriate. The question could be coming out naturally and be an honest mistake, where the interviewer is making small talk or trying to connect, so you need to discern whether those types of questions are meant to dig into your background for discrimination or not."
If the interviewer presses on multiple questions that you shouldn't have to answer, then it says a lot about what this job would be like on a day-to-day basis, and you should probably look elsewhere, ZipRecruiter CEO Ian Siegel said to Mic by email. "But assuming that's not the case and it's just one odd question, you still want this job, right? So I would deflect and pivot back to the relevant skills and experience that make you a great fit for the role."
Still, beyond potentially illegal questions, there are many tough, gray-area questions that are legal to ask — but can trip you up during an interview. Can you gracefully avoid them or is there a better way to address a tough and sometimes uncomfortable interview question?
Here's a list of five super tricky interview questions you could be asked and how to respond. You got this.
1. How much money do you currently make?
While valid, this is a trick question that can pigeonhole you into making the same salary you are trying to leave behind. "While fair, this doesn't get you what you want from the new job," Larssen said. "The question traps a lot of people into answering with their current salary, only to be offered something close to what they are currently making."
The best way to answer: Do your homework on salary range before the interview. "Instead of blurting out what you make, instead say, 'For this job, I've done some research on the salary range and am looking to make something within this range,'" Larssen said. "If pressed, tell them what you make, but follow it up by saying your salary is below market for your job parameters, which is why you are looking for a new position." You can also include in your compensation estimate any special benefits with financial value, like if your current employer is paying for you to take classes. But be honest about that.
Never lie or fudge the truth about your salary, Siegel said: "First of all, lying in a job interview is a bad idea. And in this case, the company doing the hiring probably has other ways of finding out the answer."
2. Why would you leave your current job?
Even if you did or will part ways amicably with a previous employer, many interviewers are curious about why you left or would leave. "This is a fair and common question, but is inappropriate if the interviewer is trying to dig for dirt or trying to get more than you are willing to share," Larssen said.
The best way to answer: Put a positive spin on the reason you left or are trying to leave, regardless of the circumstances. "Always bring it back to the current position and what you hope to achieve through the potential job," Larssen said. "Tell the interviewer you left in search of new opportunities or to expand your horizons."
3. Can we have links to all your social media accounts?
Social media adds a new layer to interviews as employers could catch a glimpse on Instagram of a wild night with friends and rethink offering you the job. Before you job hunt, make sure the social media profiles you want kept private are set accordingly, and remember a manager might know a friend of a friend of yours — and be able to access your profiles that way. So stay vigilant.
The best way to answer: Provide the interviewer with a list of professional social media profiles such as on LinkedIn, Larssen said. "Be prepared to share your professional social media links," she said. "If pressed for more, say these are your professional social media accounts and other social media, such as Facebook, is for your personal use."
4. If you were a color what would it be?
Bizarre job interview questions like, "How would you sell hot cocoa in Florida?" or "What would you do if you found a penguin in the freezer" are designed to extract unrehearsed answers from the candidate, but Larssen doesn't see much value in stressing over them. "Questions like, 'If you were a color what would it be' doesn't tell you anything about the candidate and is impossible to know how to answer," Larssen said. "I was once asked what was my favorite word and I didn't know how to answer."
The best way to answer: Smile, pause and take some time before trying to answer an odd question. "When I was asked what was my favorite word I said that I thought it was a good question and would it be OK for me to think about it and send an email with my response," Larssen said. "One advantage to answering later is it provides you an opportunity for follow-up and give your answer some thought."
5. Can you explain this gap on your resume?
Gaps in employment happen, but the interviewer may zero in on that gap and ask about your employment dry spell. "If you have valid life reasons that explain the gap, now would be an appropriate time to say you paused your career for a while to have a baby, or take care of a sick relative or whatever the circumstances were," Siegel said. 
The best way to answer: "This is an opportunity to express to the hiring manager how interested you are in the job," Siegel said. "Another good pivot is to simply say, "I've been actively searching and applying for jobs. I've come across a few interesting things so far, but I haven't found the perfect fit yet. Since I want the next job I take to be a meaningful and long-term step in my career, I'm holding out for the right job, and not just the first job I can get.'"
Sign up for The Payoff — your weekly crash course on how to live your best financial life. Additionally, for all your burning money questions, check out Mic's credit, savings, career, investing and health care hubs for more information — that pays off.