'Overwatch' tattoos: Check out these 7 incredibly badass designs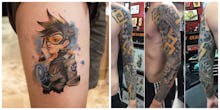 Overwatch has a massive fanbase that spans the globe, but only a few spend the money — and endure the pain — to get a permanent Overwatch-inspired tattoo.
So, whether you're looking for some inspiration for an Overwatch tattoo of your own or simply want to gawk in awe at the dedication of others, we've rounded up seven seriously badass examples for you to check out.
1. Hanzo sleeve on basedoniichan
This tattoo on Tumblr user basedoniichan is a nearly perfect replica of the sleeve Hanzo has on his left arm. According to his post on /r/Overwatch, the tattoo cost $1,600 and took 15 hours over three separate sessions to complete. That's dedication. Probably a Hanzo main.
2. Symmetra tattoo on ThatOneMalamute
This Symmetra-inspired tattoo perfectly captures her love for all things orderly and mathematical, combining her light-sculpting hands with a wire-frame bird. In fact, the voice actor for Symmetra, Anjali Bhimani, chimed in on Twitter to say how much she loved it.
3. Tracer portrait by brittachristiansen
This incredible portrait of everyone's favorite time-hopping lesbian was created at the Body Art Expo in San Diego. The water color art style really brings her to life.
4. Feline-Inspired Tracer/Mercy tattoos on a husband and wife pair
OK, this one might not be "badass," but it sure is great. A husband and wife duo each got inked with Overwatch-ified versions of their pet cats and shared the result on Reddit. On the left is cat Tracer and on the right is a feline Mercy.
5. Zenyatta "Nine" spray tattoo on MangoMurder
This tattoo is a perfect imitation of Zenyatta's "Nine" spray, as if the robot monk himself stamped it there himself.
6. "Cute" Junkrat spray tattoo on Paniclilkitty
Junkrat is an absolute blast to play — pun definitely intended — so his "Cute" spray is a perfect candidate for some badass ink.
7. "Fight like a girl" ode to the ladies of Overwatch on LolaCola
This Overwatch ink might be the best of the bunch. It's a massive, sleeve-length love letter to all of its kickass female characters, accompanied by the caption "fight like a girl."
Lola said via email that it took four hours to complete and cost about $600. The inspiration? To celebrate some good ol' fashioned girl power.
"I adore Overwatch for its diversity with not only genders, but with race and culture as well," Lola said. "It's so beautiful seeing all of these communities come together and to learn about each culture through a video game. Especially in the world we live in now, it's nice to see a game that can bring us together for who we are. I honestly don't know any other game that does that so seamlessly."
More Overwatch news and updates
For more on Overwatch, check out the rest of what Mic has to offer. Here is a list of our predictions for what seasonal events might appear in 2017, a look at a very funny but naughty meme on the Overwatch subreddit, an interview with the creator of an awesome new Overwatch zine, a full explanation of the different types of health in Overwatch, our definitive ranking of every Overwatch hero, a roundup of awesome gender-bent Overwatch cosplay and a giant Overwatch FAQ for beginners.