Ava DuVernay announces queer directors Cheryl Dunye and Aurora Guerrero for 'Queen Sugar'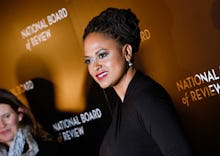 Filmmaker Ava DuVernay made headlines when she hired all-female directors for the first season of Queen Sugar. And now, she's making even more: Two of the directors for the show's second season, Cheryl Dunye and Aurora Guerrero, are award-winning filmmakers who are also queer women of color.
Dunye is a black lesbian filmmaker best known for the 1996 film The Watermelon Woman, which was the first feature film directed by a black lesbian.
Guerrero is a queer Chicana filmmaker whose 2012 feature Mosquita y Mari follows two high school girls who fall in love with one another while navigating life in Latino Los Angeles.
DuVernay's commitment to hiring female directors is a badly needed intervention in Hollywood. Just take this for example: only 7% of Hollywood's top 250 films were are directed by women women. 
As DuVernay explained in an interview with Vulture, the decision to focus on female directors was natural. "It wasn't — let's find all women," DuVernay told Maria Elena Fernandez of Vulture. "It was more like, I would really love Kat Candler to do it. Wouldn't Victoria Mahoney kill it? Would Tanya Hamilton be interested? What would So Yong Kim do with Ralph Angel? My mind started working that way."
Diversity, it turns out, isn't all that hard to accomplish after all.