Does Germany really owe NATO money as Trump claims? No, but that's not the whole story.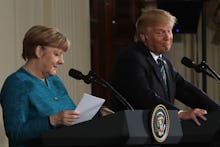 Over the weekend, President Donald Trump earned a rare rebuke from a foreign official. On Saturday, shortly after meeting with German Chancellor Angela Merkel, Trump claimed Germany owes "vast sums of money to NATO & the United States."
German Defense Minister Ursula von der Leyen shot back in a statement on Sunday. "There is no debt account at NATO," she said, arguing that Germany contributes militarily in other ways, including to UN peacekeeping and in the fight against the Islamic State.
U.S. spending on NATO
While von der Leyen is technically correct (and Trump technically wrong) that Germany does not owe NATO money, her remarks obscure the fact that the U.S. contributes far more to NATO than any of the other 27 member nations.
For the time period starting in January 2016 until the end of 2017, the U.S. is slated to provide a little more than 22% of the alliance's common budget. Germany will provide about 14.6%, France just under 11% and the U.K. just under 10%. The other 24 member nations contribute less than 10% of the budget each, with some, including Albania, Bulgaria and the Czech Republic, contributing less than 1% each.
The U.S. accounts for "roughly 75% of the military spending by all NATO members," the Wall Street Journal reported in 2015.
2% GDP goal
In 2006, the alliance floated the idea that all members should spend at least 2% of GDP on defense. But it wasn't until 2014 that NATO instructed members to "aim to move towards the 2% guideline within a decade." 
The instruction was non-binding, and some members — including Germany — ignored it. Von der Leyen, the defense minister who rebuked Trump, told German public broadcaster Deutsche Welle at the time that she saw no need for Germany to meet the commitment, as it was already the alliance's second-largest military contributor.
Just five members met the commitment in 2015: the U.S., U.K., Greece, Estonia and Poland. Of those, only the U.S. consistently hits the target. Unequal contributions to the alliance have long rankled the U.S. With increased Russian aggression in Georgia and Ukraine, members must step up their commitments, U.S. officials say.
"America will meet its responsibilities, but if your nations do not want to see America moderate its commitment to the alliance, each of your capitals needs to show its support for our common defense," Secretary of Defense James Mattis told defense ministers from NATO members in February.
"No longer can the American taxpayer carry a disproportionate share of the defense of Western values," he added. "Americans cannot care more for your children's security than you do. Disregard for military readiness demonstrates a lack of respect for ourselves, for the alliance and for the freedoms we inherited, which are now clearly threatened."