In Gorsuch confirmation hearing, SCOTUS pick boasts of open mind on social justice issues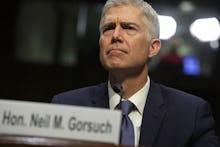 U.S. Court of Appeals Judge Neil Gorsuch said Monday his record on issues of social justice and civil rights suggests he will bring an open mind to the nation's highest court. 
"In my decade on the bench, I've tried to treat all who come before me with respect and fairly, and afford equal rights to rich and poor," Gorsuch said before the Senate Judiciary Committee, on the opening day of his confirmation to fill the Supreme Court seat left vacant by the death of Antonin Scalia. 
Gorsuch, who President Donald Trump nominated in late January, hinted he could be fair to undocumented immigrants, workers alleging civil rights violations and those who are incarcerated. But he lacks the support of a national coalition of civil rights groups, including the NAACP Legal Defense and Education Fund and the League of United Latin American Citizens, which made public their opposition ahead of Monday's hearing. In an emailed statement, the groups said their analysis of Gorsuch's written opinions, and Trump's promise to choose a conservative nominee to shift the ideological balance of the court, shows Gorsuch may instead be a "rubber stamp for the president who appointed him."
"Senators have an awesome responsibility before them as they consider Judge Gorsuch for a lifetime appointment to the Supreme Court," Wade Henderson, president and CEO of the Leadership Conference on Civil and Human Rights, the coalition opposing Gorsuch's confirmation, said in a statement released Monday. "But Judge Gorsuch has an even greater obligation ... to fully and candidly answer questions about his troubling record and judicial philosophy, something he has so far failed to do."
Among Gorsuch's legal opinions that give civil rights advocates pause are his views that religious businesses and organizations should be exempt from offering women access to contraceptive care under the Affordable Care Act, in Hobby Lobby Stores, Inc. v. Sebelius; his view that a police officer who fatally deployed a stun gun on man fleeing a marijuana arrest was entitled to immunity from prosecution, in Wilson v. City of Lafayette; and his apparent support of a Georgia voter photo ID law, as an principal deputy to the associate attorney general, that critics panned as discriminatory against black voters.
Republican and Democratic senators are expected to begin questioning Gorsuch on Tuesday, with testimony for and against his confirmation to continue on Friday. Although final confirmation is not expected for two weeks, the judge is widely expected to win approval in the GOP-controlled Senate.
In his opening statement, Gorsuch said he is "acutely aware of my own imperfections," but came to each of the more than 2,700 appeals cases he considered with the view that they were more than "just a [case] number or a name."
"I've decided cases for Native Americans seeking to protect tribal lands ... I ruled for disabled students, for prisoners, for the accused, for workers alleging civil rights and undocumented immigrants," Gorsuch said Monday. "Sometimes, too, I ruled against such persons."
It was first time since his nomination that Gorsuch shed light on his own philosophy. The advocacy groups opposing Gorsuch said they will continue to urge senators to scrutinize his record.
"If confirmed to the Supreme Court, which is closely divided on many critical issues, Judge Gorsuch would tip the balance in a direction that would undermine many of our core rights and legal protections," reads the group's letter to the judiciary. "He lacks the impartiality and independence the American people expect and deserve from the federal bench."
Gorsuch told the Senate Judiciary Committee he has made "his share of mistakes," but he takes a judge's responsibility of fairness seriously and impartiality.
"If judges were just secret legislators ... the very idea of a government for the people and by the people would be at risk,"  he said. "Putting on the robe means it's time to lose our egos and open our minds."