'Mass Effect: Andromeda' Change Appearance: What you need to know about redesigning Ryder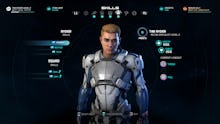 Update: Mass Effect: Andromeda patch 1.08 now allows you to modify Ryder's appearance mid-game. To do so, use the facial reconstruction station on board the Tempest in the med bay. The original story follows.
Not happy with the way your Scott or Sara Ryder turned out once you started playing Mass Effect: Andromeda? We've got bad news. There's no way to change their appearances once you've started a game.
Your only option is to restart the game from scratch and try to do better the next time around. But don't worry — we're here to help make sure you get the most foxy-looking Ryder possible.
Mass Effect Andromeda: How to use the character creator
When you start building a character, pay close attention to each preset's bone structure and complexion. You'll be able to slightly modify the way the preset face looks, but you have far less control over your character's appearance than you did in previous BioWare games, like Dragon Age: Inquisition.
For example, there's no way to change a character's skin texture. If you like the silky smooth skin of head four, but the bone structure of head five, you're out of luck. You'll have to settle for one or the other.
Once you decide on a preset you like, select it and then use L1 or R1 to tab through the different customization options. There are pages for hairstyle, skin tone, makeup, etc. So, if you're put off by a preset's hairstyle, play around with it. You might realize a certain face doesn't look so bad once you give them a bit of a makeover.
Of course, the way the character looks in the creator is often vastly different from how it looks in-game, but PC Gamer created a handy video (embedded above) that shows you how each preset looks in the opening scene. Use this as a reference if you're worried about your character looking like a dopey muppet.
Now go kiss some hot aliens, you wild kids.
June 9, 2017, 10:30 a.m.: This story has been updated.
More Mass Effect: Andromeda news, updates, tips and tricks
For more on everyone's favorite space opera, check out the rest of what Mic has to offer. Here's an essay on the troubling history of colonialism in Mass Effect, a story about the horrifying harassment campaign carried out against a former BioWare employee, a guide on romancing Keri, a guide to romancing Reyes and a quick explainer on the different types of health in Andromeda.