'The Flash' Season 3, Episode 18 Spoilers: What will happen in "Abra Kadabra"?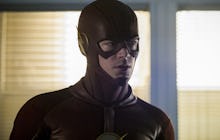 It is probably safe to say that Tuesday night's The Flash was unlike any episode of the series to date. After being teased for several months, the CW finally delivered on a musical crossover between Supergirl and The Flash that showed off the vocal talents of several Glee alumni. The spectacle also included Broadway veterans like Legends of Tomorrow's Victor Garber and Arrow's John Barrowman. 
In "Duet," Mon-El and J'onn J'onzz travel to Earth-1 with an unconscious Supergirl, following the Girl of Steel's encounter with the Music Meister on her eponymous series. Unfortunately, in trying to capture the villain, Barry finds himself in the same comatose state, requiring the two heroes to play out the script of a movie musical in order to wake up. In the end, the Music Meister's plot was all just an elaborate scheme to teach Kara and Barry a lesson — specifically, one of love. 
In the final moments of the musical episode, Kara and Barry find themselves bleeding out from gunshot wounds in their dream, forcing Cisco to vibe Mon-El and Iris into the alternate reality to save their respective loves. And like most movie musicals, we are treated to a happy ending, as both our heroes survive and the episode ends with Barry proposing to Iris once more — and she says yes.
In season three, episode 18 of The Flash, Barry and the rest of the team's attention will once again turn to Savitar. But just because the music has ended doesn't mean there won't be any theatrics. In "Abra Kadabra," a new villain will show up in Central City, one with quite a bit of experience in stage theatrics. And because Abra Kadabra will have information on Savitar's identity — he's from the not-so-near future — Barry will once again be put in a position where he considers letting a villain escape. 
If you need a bit more information to hold you over until next week, don't worry. Here is the official synopsis, via SpoilerTV, for "Abra Kadabra": 
The Flash battles Abra Kadabra, a villain from Earth-19, who makes him a tempting offer — release him and Abra Kadara will reveal Savitar's true identity. Desperate to save Iris, Barry considers taking the deal but Gypsy breaches in to capture the villain for her own reasons and during the melee, Abra Kadabra manages to escape. Barry is furious that Gypsy interfered but Gypsy refuses to back down, forcing Cisco to take sides. Meanwhile, Julian is still a bit cold towards Caitlin but when she is severely injured in a battle with Gypsy, he rushes to her side.
You can also check out an extended promo for season three, episode 18 of The Flash below:
The Flash airs Tuesdays at 8 p.m. Eastern on the CW.
Mic has ongoing coverage of The Flash. Please follow our main The Flash hub here.