Colin Kaepernick trolls Donald Trump's skinny budget by donating to Meals on Wheels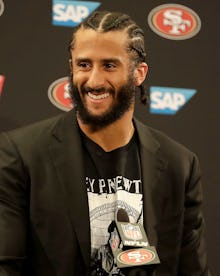 Colin Kaepernick may not kneel during the national anthem at NFL games, but he hasn't stopped taking a stand for what he believes is right. After the White House unveiled a budget proposal calling for funding cuts that could hurt Meals on Wheels, an anti-hunger program for the poor and elderly, the free-agent quarterback donated $50,000 to the cause.
The gift to Meals on Wheels, a national organization dedicated to fighting hunger and feelings of isolation among seniors, is the latest in a series of socially conscious donations made by the star athlete. Following his promise to kneel during "The Star-Spangled Banner" to call out police brutality in communities of color, Kaepernick also pledged to donate $1 million of his annual salary to charity.
Meals on Wheels thanked Kaepernick via Twitter on Tuesday.
But like most people attempting to do some good in the world, Kaepernick also has his haters. Former vice presidential candidate Sarah Palin's website dismissed the donation as a "political stunt," but then deleted its post. 
"His last stunt cost him the respect of most NFL officials, as teams across the country have chosen not to offer Kaepernick a contract following his kneeling-during-the-national-anthem stunt last year," Mary Kate Knorr wrote in a blog post. 
"And he wonders why he can't find a job," Palin quipped in a Facebook post that has since been deleted.
Kaepernick seems less concerned about his own job than he is about his elders having enough to eat. At a Thursday press briefing about President Donald Trump's first budget proposal, White House budget director Mick Mulvaney said grants benefiting Meals and Wheels and other anti-poverty "were just not showing any results." That's just not true.
Trump's budget would completely eliminate funding for the Community Development Block Grant Program, which funds neighborhood revitalization projects and affordable housing initiatives in addition to Meals on Wheels, the Washington Post reported. The cuts are designed to help boost defense and infrastructure spending on proposals such as Trump's promise to build a wall along the U.S.-Mexico border.
In addition to the Meals on Wheels donation, Kaepernick's website shows he's donated an estimated $400,000 to a variety of charities and community groups. He's also funded his own "Know Your Rights" camp targeting youth of color, which includes workshops on healthy living, financial literacy and civil rights.
Kaepernick has yet to comment publicly about his donation to Meals on Wheels. His organization did not immediately respond to a request for comment.