Here's where Sears, Kmart, JCPenney and other chain stores are closing across America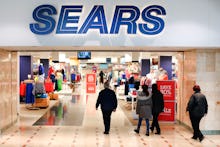 Several household-name retail chains have begun shuttering storefronts in 2017, as these historic brands are struggling to compete. The reason?
Blame the internet and the ease of online shopping. "The retail industry continues to evolve based on consumer preferences and shopping patterns," Ana Serafin Smith of the National Retail Federation said in an email to Mic. "Retailers are resizing and modifying their businesses."
Online competition and discounted pricing are hurting retailers, as Clark Howard reports, in part because fashions and selection tend to lag in brick-and-mortar stores versus what shoppers can find online. "The reality is that America has been overstored. We have far too many retail locations, shopping centers and branches of different chains," Clark said. "But stores that are meeting your needs with low prices will continue to thrive." 
Before you head out to shop, check out this list of major retailers shuttering stores soon. Some companies — like the parent of department stores Sears and Kmart — have expressed doubt about staying in business altogether. But other brands on the list below, like JCPenney, Macy's and CVS, are simply closing locations at this time.
Which Abercrombie & Fitch stores are closing
Approximately 60 retail Abercrombie & Fitch locations will close in 2017, dropping total brick and mortar locations down to 670.  Abercrombie's CEO, Fran Horowitz announced the closure on the heels of the store experiencing a 9% drop in sales in 2016. 
The brand claims 2017 closures are a result of lease expiration and continues to maintain a strong balance sheet and is positioned for sustainable growth. Thus far, Abercrombie has not announced exactly which stores will close. 
Which BCBG stores are closing
While the high-end women's mini stores will remain open at Macy's, BCBG plans to close 120 locations this year. "Like so many other great brands, BCBG has been negatively impacted by the growth in online sales and shifts in customer shopping patterns and, as a result, has too large a physical retail footprint," BCBG said in a statement. 
No specific locations are named as of yet or when closures would commence, but the brand filed for bankruptcy protection and secured capital to remain open during the reorganization period. Both BCBG Max Azria and BCBG Generation locations are part of the closures. 
Which CVS stores are closing 
Pharmacy and convenience retailer CVS plans to close at least 70 locations, including stores in the following places:
• California: Visalia, Madera and San Francisco.
The highest concentration of closures is in Illinois. CVS said the closures are due to restructuring, according to the Chicago Tribune. Shuttering the locations is anticipated to deliver a $265 million return and to benefit shareholders over the long term said Dave Denton, executive vice president and chief financial officer of CVS, according to Chain Store Age. 
Which Hhgregg stores are closing 
Electronics and appliance store Hhgregg will close 40% of its stores by April, leaving 132 retail locations in operation. Approximately 1,500 jobs will be cut as a result, which equates to 29% of the company's total workforce. 
"We are strategically exiting markets and stores that are not financially profitable for us," Robert J. Riesbeck, Hhgregg president and CEO told Fortune. "We have determined that the economics of the affected locations will not allow us to achieve our overall goal of becoming a profitable company again."
Closures will impact stores in:
• Alabama: Mobile and Trussville.
Which JCPenney stores are closing
JCPenney issued an updated list of store closures from its February 24 announcement of 138 store closures in 2017. Stores will begin to liquidate their inventory in April. The retailer said closures are necessary to "advance sustainable growth and long-term profitability."  
Affected places include: 
• Alabama: Auburn, Bessemer, Gadsden and Jasper.
Which Kmart stores are closing
According to the store, Kmart is closing 108 locations in 35 states. Those include locations across the country. In 2016, a spokesperson from the Sears Corporation, which owns Kmart, said while deciding to close locations was difficult, it was imperative to close unprofitable stores and hope Kmart shoppers to make purchases online. 
Stores will shutter in:
• Alabama:Jasper and Phenix City.
Which Macy's stores are closing
In January, Macy's announced the closure of 68 locations, with some in North Hollywood, CA; Honolulu, HI and West Valley City, UT completed in 2016. Despite remaining profitable, Macy's is closing locations and focusing on online business after experiencing a dip in sales for the 2016 fiscal year. 
Closures announced in 2017 occurred in Bowling Green, KY; Pineville, NC; Douglaston, NY; Portland and Salem, OR; Eau Claire, WI. 
Stores that will close by the end of 2017 are:
• California: San Diego, Simi Valley and Santa Barbara.
Which Sears stores are closing
Sears decided to close stores after poor holiday performance and reported a considerable money hemorrhage: "The decision to close stores is a difficult but necessary step as we take actions to strengthen the company's operations and fund its transformation," Sears CEO Eddie Lampert said in a statement. 
According to the store, Sears is closing 42 locations in 27 states. Those include locations in: 
• Alabama:Florence.
Sign up for The Payoff — your weekly crash course on how to live your best financial life. Additionally, for all your burning money questions, check out Mic's credit, savings, career, investing and health care hubs for more information — that pays off.