Trump used a fake Cyrus the Great quote to wish Iranians happy new year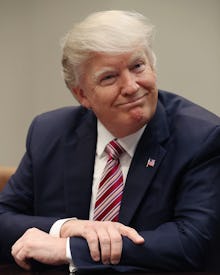 On Wednesday, President Donald Trump wished "all those around the world celebrating the wonderful ancient holiday of Nowruz" a happy holiday. The White House was a few days late delivering its greeting for Nowruz, which falls on the first day of spring and is also known as the Iranian New Year, though it is celebrated by people across the Middle East and Central Asia.
In his holiday message, Trump quoted the historical figure Cyrus the Great, the founder of the Achaemenid Empire, which stretched from the Balkans to South Asia at its height. Trump's statement said:
Cyrus the Great, a leader of the ancient Persian Empire, famously said that "freedom, dignity and wealth together constitute the greatest happiness of humanity. If you bequeath all three to your people, their love for you will never die."
But, according to experts and historians who study the Achaemenids, Cyrus didn't actually say that.
"The historical Cyrus certainly never said such a motto," Pierre Briant, a senior fellow at New York University's Institute for the Study of the Ancient World and author of From Cyrus to Alexander: A History of the Persian Empire, said in an email. "The saying probably comes from the alleged (unhistorical) last words of Xenophon's Cyrus on his death bed" — a reference to the Ancient Greek author Xenophon's Cyropaedia, which was written at least a century after Cyrus lived and, according to the Columbia University site Encyclopædia Iranica, is a "partly fictional biography of Cyrus the Great."
But Xenophon didn't attribute those words to Cyrus, either. 
Instead, the quote comes from Larry Hedrick, a retired U.S. Air Force officer. The words appeared from a 2006 leadership advice book by Hedrick called Xenophon's Cyrus the Great: The Arts of Leadership and War. 
The volume, which was marketed to business leaders, claims to be based on the Cyropaedia. Macmillan, which published Hedrick's book, lists it as fiction. Xenophon's Cyrus the Great: The Arts of Leadership and War differs greatly, both in style and in organization, from the 1906 translation of Xenophon's book on which it claims to be based.
Hedrick's book is "a modern historical novel and management guide," Daniel Sheffield, an assistant professor at Princeton's Department of Near Eastern Studies, said in a Facebook post and via email. "Despite its title, the book is not a translation of Xenophon's Cyropaedia but Hedrick's rather fanciful interpretation of Cyrus as the model corporate mogul."
"I've got nothing against deriving contemporary inspiration from Cyrus, as did generations of Xenophon's readers, but this administration's questionable ability to discern between fact and fiction seems to affect even their most banal activities," Sheffield wrote.
Hedrick, for his part, was not pleased about having his words unintentionally quoted by Trump.
"The fictional nature of the Cyropaedia has been recognized for centuries," Hedrick said in a phone interview. "I dislike and distrust Trump completely and he was the last person in the world I would have wanted to mention my book," he added.
How the quote got from Hedrick's book to a White House statement remains unclear. But a cursory Google search of the quote returns a 2012 article from Forbes titled "9 Timeless Leadership Lessons from Cyrus the Great"  written by Ryan Holiday, whose Twitter bio describes him as an author and media columnist for the New York Observer. (The Observer was owned by Trump's son-in-law, Jared Kushner, until 2017, when Kushner transferred ownership to a family trust after he announced he would take a senior role in the White House.)
In an email exchange, Holiday called Trump a "national embarrassment," but defended his quotation of Hedrick's book as a source on Cyrus. "I'm not a classicist, but this is a book edited by a military historian who clearly explains his source material and methods, published by a major publisher," he said.
A Google search also shows results for the quote from Wikiquote and AZQuotes.com.
"The text transmission seems to run as follows: Hedrick -> 2012 Forbes listicle entitled '9 Timeless Leadership Lessons from Cyrus the Great' -> Wikiquote," John Haldon, the director of Princeton's Sharmin and Bijan Mossavar-Rahmani Center for Iran and Persian Gulf Studies, said in an email.
Iranian-American groups were upset with Trump, but not about the quote. 
"I appreciate that the president would try to quote Cyrus the Great," Trita Parsi, the president of the National Iranian American Council, said in a phone interview. "It would obviously be better if he had gotten a correct quote. But the fundamental problem we have is not with the statement per se, but the fact that the substance of his policy is damaging to U.S. national interests and it's tearing Iranian-American families apart."
Iran was one of the countries included in both the original and, more recently, blocked second iteration of the Trump administration's ban on entry to the U.S. for travelers from six Muslim-majority countries.
The White House did not respond to a request for comment.