Health Care Bill 2017: What a House "yes" vote means for you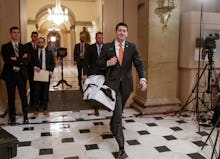 House Republicans are heading into Thursday's American Health Care Act vote unsure if they have the support necessary to send the Affordable Care Act replacement plan to the Senate. 
On Wednesday, President Donald Trump, House Speaker Paul Ryan and other top Republicans scrambled to amass the votes they need to pass the American Health Care Act through the House. 
But at least 27 House Republicans — comprised of moderates who feel the AHCA goes too far and conservatives who feel it doesn't go far enough — have either stated or implied they will vote "no" on the AHCA, colloquially known as Trumpcare. The GOP can suffer only 21 Republican "no" votes if it wants to move the bill along, and things were not looking good for them late Wednesday: After a seemingly frustrating meeting with moderates at Ryan's office, the speaker and other Republican leaders apparently snuck out side exits to avoid the press.
Trump, for his part, has attempted to rally Republicans behind the controversial bill by warning them the party could suffer a "bloodbath" in the 2018 midterm elections if it fails to pass it. On Tuesday, the president promised a "winner" vote on the bill that could define both his and Ryan's political legacy one way or another.
"I think we're going to get a winner vote," Trump told reporters. "They want a tremendous health care plan, which we have. There are going to be adjustments made. I think we'll see the votes on Thursday."
What would Trump's "winner" vote mean for you?
The AHCA would phase out the ACA's Medicaid expansion and dramatically change the way it is funded; distribute subsidies based on age, not income; effectively defund Planned Parenthood; and eliminate the ACA's individual mandate, instead allowing insurance companies to charge a 30% penalty for a lapse in coverage, which experts fear could de-incentivize buying insurance and trigger a death spiral in the individual markets. The plan could leave millions without health care and result in higher costs for older and lower-income Americans. 
A "yes" vote on the AHCA Thursday would bring all that one step closer to coming to fruition. 
But passing it through the House Thursday would not automatically spell smooth sailing for the Republican health care plan. As NBC News pointed out, proponents of the AHCA have an even slimmer margin of error in the Senate, where two or more defections could doom the bill. 
Passing the AHCA would be a major legislative victory for Ryan, who said he's been dreaming about scaling back healthcare entitlements since he was "drinking out of a keg," as well as Trump, who sold himself to voters as a maker of great deals.
Failing to pass it would represent a significant loss for a young Trump administration that's been mired in chaos, and for Republicans who have spent years slamming the ACA. 
"It's a very consequential vote," Republican Rep. Tom Cole, who supports the AHCA, said. "It really is: 'Can you govern or can't you?'"