'Destiny 2' Release Date 2017: Leaked poster reveals possible launch and beta details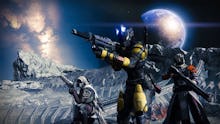 We've been waiting patiently for additional information by way of Bungie for when we might be able to expect a second Destiny game — presumably titled Destiny 2. Up until now, we haven't had a clear sense of when the game would launch. However, Destructoid reports a rumor that that might be changing in the very near future, if a leaked poster NeoGAF user HigXx has pointed out is any indication. 
The image appears to depict Destiny 2, with a projected launch date of Sept. 8. Possibly outed via an Italian retailer, it also refers to what appears to be an upcoming beta. No doubt there'll be some sort of early access before the game actually makes its debut, but this poster seems to indicate that a preorder bonus might grant you access to said beta.
It also appears that an additional poster, shared on the Italian website Lega Network, has been found, and it looks a little too similar to the other leak to be fake. Of course, this could all be the doing of an extremely zealous fan looking to spark rumors on the internet.
Bungie hasn't commented on the leaks thus far, and probably won't be doing so anytime soon. Still, the authenticity of these posters certainly doesn't seem implausible. With E3 2017 right around the corner, it's the perfect time to announce a new entry in the Destiny universe. With that in mind, though, we likely won't hear anything either way on what this supposed leaked poster is referring to until June. Until then, we'll keep digging for more info.