What Melania Trump wore her ninth week as first lady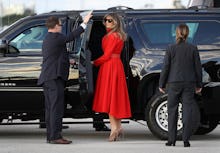 You could say that Melania Trump has a pattern. 
If no presidents or prime ministers from foreign countries visit the White House in a given week, you can expect Trump to appear in public just once: On the Friday that she sneaks out from the White House and flies with Donald Trump and Barron down to Mar-a-Lago. 
She has done this several times now, emerging mysteriously — after days and days of absence — either on the White House lawn before she makes her way to Mar-a-Lago, or reappearing in Palm Beach itself. 
There have been reports that Trump doesn't really like being first lady all that much, and this kind of behavior reflects that. 
But at least this week we can write about something, right? 
As of 3 p.m. on Friday, March 24, we have only seen Trump once this week, and it was last Friday evening, March 17, when she yet again emerged at the White House only to show her face and promptly GTFO of Washington. 
This is what she wore.
Friday, March 17: Channeling Nancy Reagan in red 
For her grand reappearance at the White House and speedy departure, Trump wore a long, belted red coat by Alice Roi, the same designer that designed the black coat she wore the day after the Inauguration. 
Immediately, fashion publications like Vogue drew comparisons between Trump's red outfit to that of Nancy Reagan on Inauguration Day in 1981. And so did Mic, actually. 
Overall, the look kept with her image of unyielding glamour and consistency, opting for a color she's worn before and her signature Gucci sunglasses. 
It also enforced Trump's trend of looking back at former first ladies for inspiration, with Trump mirroring Jackie Kennedy two times already with her fashion choices. 
Who's next, we wonder. Maybe an accidental Clinton nod? 
You can see previous recaps of what Melania Trump wore here.