Steve Bannon is still quietly executing his nationalist plan and pursuing an anti-Islam agenda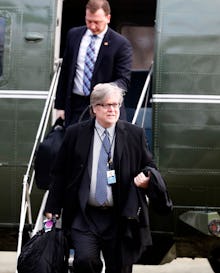 Steve Bannon, President Donald Trump's senior strategist, has had a quiet couple of weeks — by his standards, at least. But that doesn't mean he hasn't been making headlines. 
Here are three eyebrow-raising items that have been on Bannon's schedule lately.
Being roommates with an ex-member of Egypt's parliament?
According to USA Today, Breitbart, in its quest for legitimacy, has decided to move its headquarters from Steve Bannon's house to somewhere yet to be determined. 
While the company looks for office space, most employees are telecommuting, USA Today reported. "Some of our employees just weren't comfortable working at a Breitbart office there," Breitbart spokesperson Chad Wilkinson told the paper.
What's odd is that it's generally not legal to run a business out of a residential property — zoning laws and all that. 
What's even odder is that the house where Bannon lives is actually owned by Moustafa el-Gindy, an ex-member of Egypt's parliament who's been quoted in at least six stories on Breitbart. 
According to USA Today, el-Gindy receives a $72,000 tax credit for the property. In order to claim that credit, however, he has to live there — which means that (assuming el-Gindy claims the credit), he's either violating tax law or he's roommates with Steve Bannon, a man of 63.
Pushing a clash of civilizations and religions
A recent article in the Atlantic highlighted Bannon's attempt to cobble together a coalition of Catholics, Evangelicals and Russian Orthodox to act as a bulwark against "Islamic fascism," as Bannon calls it.
In Bannon's view, the Atlantic asserted, the culture war for traditional "Judeo-Christian" values (whatever those are) can't be won by the right. The reason Western civilization is in "decline" (a view shared by America's most racist congressman, Steve King) is its abandonment of those values in the face of secularism. Heterosexual marriage, nuclear families, old-time religion; these are what America and Western Europe must re-embrace in order to overcome "radical Islamic terror."
Bannon sees a natural ally in the Russian Orthodox Church, which pushes traditional morality in much the same way American Evangelicals do. White Evangelicals voted for Trump 4-1 over Clinton, the Pew Research Center found.
But Trump can't lead this coalition, the Atlantic argued. For one, he's not seen as particularly religious. Patriarch Kirill of the ROC can't lead it either, because Americans are hesitant to take marching orders from a Russian in a funny costume. And neither can its most natural leader, Pope Francis, because he's spoken out against many of the things Trump stands for. 
So, for now, it's a movement without a leader.
Hyping the "deep state"
A "deep state" is, essentially, an unelected government made up of intelligence and military officials who push their own policy agenda over that of elected leaders while maintaining the facade of democracy. America isn't there; not yet, anyway. 
We do have a bunch of unelected administrators and bureaucrats, however, and it's this that Bannon and others have referred to as our "deep state."
Bannon has pinned the hardships and mishaps of the Trump administration on "moles" placed in the U.S. Government by the Obama administration who oppose Trump's policy agenda. It's these "deep state" actors who've been leaking every embarrassing thing Trump says or does to the media, the president and Bannon claim.
According to Politico, "What has been lost in the discussion of the Deep State, however, is that even if it is fiction, it is a profoundly useful one for the White House. As Trump takes a wrecking ball to the federal bureaucracy … an illusory enemy like the Deep State is exactly what is needed to justify the destruction."