'Diablo 3' Season 10 Rewards: update rewards and items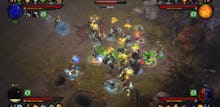 Diablo 3's season 10 update is launching on March 31 after what seems like a ridiculously long wait. It will be available on all platforms for the first time, which means both PlayStation 4 and Xbox One players will get a chance to check out the new content at the same time as everyone else. With season 10 comes new rewards, and that's one of the best reasons to jump in and see what you can earn. 
Here are the Diablo 3 season 10 rewards, according to Blizzard. 
Diablo 3 season 10 rewards: Items, upgrades and more
Season 10 will include a set of new cosmetic rewards that you can work to obtain as you make progress through the season. So if you want to deck out your character and make them look awesome, you'll definitely want to put work in this season just like you did with the rest of them. Or if this is your first, you'll want to put your nose to the grindstone and work it out. 
Season 10 will net you the head and shoulders slots of the conqueror armor set, a series of new portraits based on the black soulstone, a new loremaster pennant, and likely additional surprises on the horizon if we know Blizzard like we know Blizzard. 
Additional rewards will come in the way of an additional stash tab that can be obtained be completing these tasks at the conqueror level, per Blizzard:
Complete a Torment XIII Rift in under 5 minutes
The most important rewards for season 10 include a new class set in the form of Haedrig's gift, which you'll get for finishing a few chapters in the season journey. 
Here are the sets you'll be able to pick up below, via Blizzard:
Barbarian – The Legacy of Raekor
You'll need to finish up chapters two, three and four of the entire season 10 journey as a whole before you get Haedrig's gifts. You'll get three for finishing all these missions. Each gift comes with a few pieces of a class set. You can only unlock one class set using this method, so it's up to you to choose what you want to use. You get one per season in hardcore and non-hardcore modes, so make sure you've chosen the set you actually want to use and don't count on being able to come back and choose again later! 
Season 10 will kick off on Friday, March 31 at 8:00 p.m. Eastern. You've got a little time to mentally prepare or at the very least block out your schedule for Diablo 3 so you can out there and get your rewards.
More Diablo 3 news and rumors
Mic has all the latest Diablo news, including updates on when we might be able to expect the Necromancer's appearance, Diablo 3's recent anniversary patch and more.