Officer who killed Ramarley Graham resigns. Graham's family says justice wasn't served.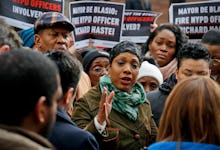 NEW YORK CITY — Richard Haste, the New York City police officer who fatally shot Ramarley Graham, a black and unarmed teen, in 2012, has resigned from the New York Police Department, after an internal trial that found him guilty of wrongdoing and recommended his firing, officials announced on Monday. 
But for Graham's family, who for five years remained in the dark about disciplinary proceedings against Haste, the resignation is just another slap in the face.
Constance Malcolm, Graham's mother, said the fact that Haste was allowed to resign without facing any criminal charges in civilian courts is shameful.
"I think the whole of New York City should be appalled with this decision," Malcolm said during a press conference at NYPD headquarters on Monday. "There's no way a cop should break in your home, kill an unarmed person and walk free, let alone get a pay raise every year from the time he killed my son."
Malcolm also tweeted about the news late Sunday night.
On Friday, an NYPD trial commissioner found Haste guilty on internal departmental charges that he "exercised poor tactical judgment leading up to the discharge of his firearm" and "acted with intent to cause serious physical injury leading to the death" of 18-year-old Graham. In statements, Police Commissioner James O'Neill and Mayor Bill de Blasio said they agreed with the trial findings.
But Malcolm said the ruling signals just how broken the police disciplinary system is. 
"I don't even understand what it means that he was found guilty on all charges, but was still justified in shooting," she said in the press conference. "Everybody should be asking this question. How can you be justified, and later on be found guilty of all charges by your own department?"
Local civil rights activists, including Rev. Al Sharpton and a New York City chapter of the Black Lives Matter Global Network, also reacted to the news on social media. Many are directing their anger at de Blasio, citing that the mayor was recalcitrant on transparency in police discipline.
Haste and other officers chased Graham into his Bronx home, believing that he was armed, on Feb. 2, 2012. Haste was identified as the officer who shot and killed Graham, who had barricaded himself in a bathroom, as other family members looked on. After the shooting, police investigators did not recover a weapon.
The city agreed to settle a wrongful death lawsuit with the family for $3.9 million in 2015. The family still hoped that Haste would face criminal charges over Graham's death — but in March 2016, Preet Bharara, the United States attorney for the southern district of New York at the time, informed Graham's relatives that the officer would not be brought up on criminal civil rights violations.
Haste was facing manslaughter charges over the shooting in state court, but the case was thrown out because of a prosecutorial error, the New York Times reported. A new grand jury did not indict him a second time. So the departmental trial represented the family's last bit of hope for accountability.
Instead of being formally fired by the commissioner, Haste walked into police headquarters Sunday and resigned. His ousting would have, at least, been symbolic for Graham's family and for activists who have for years decried a lack of accountability and justice for New York policemen.
Haste's resignation also follows a trend of what activists have described as watered down justice for victims of police violence in New York City: Daniel Pantaleo, the NYPD officer who held Eric Garner in a chokehold leading to the unarmed man's death in 2014, had been placed on modified duty and collected large overtime payments amid a federal investigation. Peter Liang, the former NYPD officer found guilty of fatally shooting Akai Gurley in a darkened housing project stairwell in 2014, received probation and community service in 2016.
Malcolm said her son's case could have been a home run for city officials who claim there is real accountability for officers who act recklessly. "This is the perfect case to show us that our men and women matter when they're killed unjustly by police," Malcolm said. "But instead, you took the easy way out by letting this man resign."
For Graham's mother, it's ultimately de Blasio who has let down her family and others concerned about police violence in New York's communities of color. "Mayor de Blasio, you have shown us time and time again that black lives don't matter to you. But I'm here to say: Remarley's life matters. He mattered, and he'll always matter. Because as long as I'm here, I'm going to continue to fight. I'm not going to stop. This is not the end."
Mic senior staff writer Jack Smith IV contributed reporting to this story.